Get the skills to make a difference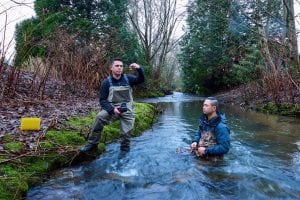 Want to work in the environment while helping the environment?  Study natural sciences and you can work to find solutions for environmental challenges.
Whether working outdoors or in a lab, you can conduct environmental impact assessments and complete research in new areas. As we seek to reduce our dependence on fossil fuels, renewable energy research will be a critical component of a clean and green future.
Turn knowledge into action restoring ecosystems great and small. Consider a career in applied and natural sciences.  Explore the programs at BCIT.
Get the skills to make a difference – explore the programs featured to the left.
Big opportunity
According to ECO Canada very high growth in worker demand is expected in the following areas:
Carbon & climate change mitigation
Heat savings and energy-efficiency
Renewable energy resources (wind, solar, thermal, etc.)
Alternative fuels and alternative fuel vehicles
Big impact
48% of Canada's energy is used by industry. Add to that all the resources used in commercial transportation and construction, and it becomes clear, if you want to make big change you have to start at the top. With a BCIT education in technical or management skills, you will be equipped to have an impact at the industrial level where the results can be huge. Get the knowledge you need to be an "industrial strength" change agent. Make a big impact on energy and resource conservation, choose your path to a green career above.
Sustainability at BCIT
As an institute BCIT is committed to Sustainability. Example of one recent activity include our worm composting program.