A Career in the Millwright Trade Awaits!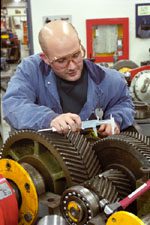 BCIT offers two great career paths to the rewarding career of Millwright. One career path is for students to complete the Millwright Foundation program. Graduates of the Millwright Foundation Program can later attain the Interprovincial Red Seal credential in Millwright through apprenticeship, and receive credit for Level One of apprenticeship technical training.The other path is for registered apprentices who complete their training through a combination of on-the-job training, workplace experience and formal full-time training at BCIT.
No matter which career path you choose, your education and training at BCIT will open the door to exciting jobs solving a wide range of technical problems in diverse industry settings.
Summary of Programs
Millwrights are often described as masters of all trades as they are expected to install, maintain and repair all types of machinery in almost any industry. Millwrights install, repair, overhaul and maintain all types of machinery and heavy mechanical equipment. They work from plans and blueprints, and install equipment and align parts or components.
Millwrights also maintain and repair machinery as required. They learn how to use grinders and lathes so they can make their own parts if necessary. Maintenance includes cleaning and lubricating, or adjusting valves and seals. They must inspect and examine the equipment to find and investigate problems and breakdowns, although some millwrights specialize in installation of machinery only.
Millwright Foundation training prepares students for entry-level employment as an apprentice in the millwright trade. Basic theory and related information along with hands-on shop practice will enable students to become competent in basic millwright duties. Graduates receive credit for first-year apprenticeship technical training.
Millwright Apprentices must complete a four-year program including 6,360 workplace hours and 840 in-school hours of training. The in-school training is taken in four seven-week blocks; one each year for four years. After completion of all four levels of training, a passing grade on the interprovincial exam will result in the BC Certificate of Apprenticeship, the BC Certificate of Qualification, and the Interprovincial Standard Endorsement, also known as the Red Seal.
Check out both of our programs for a career in the millwright trade that is just right for you!