Building BC from the Ground Up
BCIT's Carpentry department offers both Foundation and Apprenticeship options. Through either program you can start the path to becoming a red seal carpenter.
Carpenters construct, renovate and repair residential, civil, institutional, commercial and industrial structures made of wood, steel, concrete and other materials. They can work for a wide array of employers, including new home builders and renovation firms, construction firms, building owners, property managers and tenants, building developers and government departments.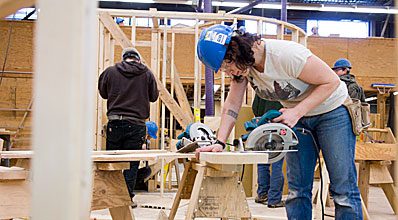 After receiving a general background in the carpentry trade, carpenters often specialize in specific areas of the trade such as:
site preparation and layout
concrete formwork and falsework
wood or metal framing
building stairs and railings
interior and exterior finishing