A nationally-designated trade under the Interprovincial Red Seal Program
The sheet metal trade consists of a wide variety of areas that you could be employed in. Sheet metal work includes the following: heating, ventilation, and air conditioning in residential, commercial and industrial settings. Other specialized areas include stainless steel, industrial exhaust systems, architectural work and roofing.
Being employed in sheet metal can be both challenging and lucrative. You could be working in a shop environment, working on a job site or both.
Our programs
The Sheet Metal Worker Foundation program prepares students for entry-level employment in the trade. Basic theory along with hands on shop practice enables students to become competent in fabricating and installing basic sheet metal products and systems.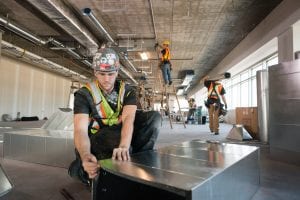 Some of the responsibilities of a sheet metal worker include:

Reading blueprints and specifications
Layout and fabrication
Installation of sheet metal systems
Altering existing systems
Welding
The Sheet Metal Apprenticeship program is for persons already indentured with the SkilledTradesBC. All apprentices must fulfill their technical training at ITA approved institutions. After completing Level 1 – 4 of technical training, Sheet Metal Apprentices are eligible to write the Interprovincial Red Seal exam . Apprentices must complete 6,240 hours of work based training in addition to passing the Red Seal exam to gain their full Red Seal credential.
Virtual Reality Walkthroughs
Take a 360° highlight tour of our Sheet Metal Department facilities.
Experience Now