For Completion of your BSN and Specialty Nursing Advanced Certificate
At BCIT, we know your expertise is integral to the health of patients who need specialized nursing care. Our Bachelor of Science in Specialty Nursing gives registered nurses (RNs) working in specialty areas the degree required for career advancement. This degree will give you the professional development needed to apply for teaching, leadership, and community health positions.
BCIT has the only post-RN academic program in BC that combines advanced specialty nursing certificate education and academic Bachelor of Science in Nursing (BSN) courses. Choose to complete the program in the order that works best for you. Graduate with both a Bachelor of Science in Nursing and an advanced specialty nursing certificate.
About the Program
In addition to developing foundational knowledge, skills and attitudes in Specialty Nursing, students in the Post RN BSN program will learn to apply contemporary theories and practices about research, leadership, management, professionalism, education, and community health nursing to practice. Courses emphasize applying theory to practice in learning materials and assignments.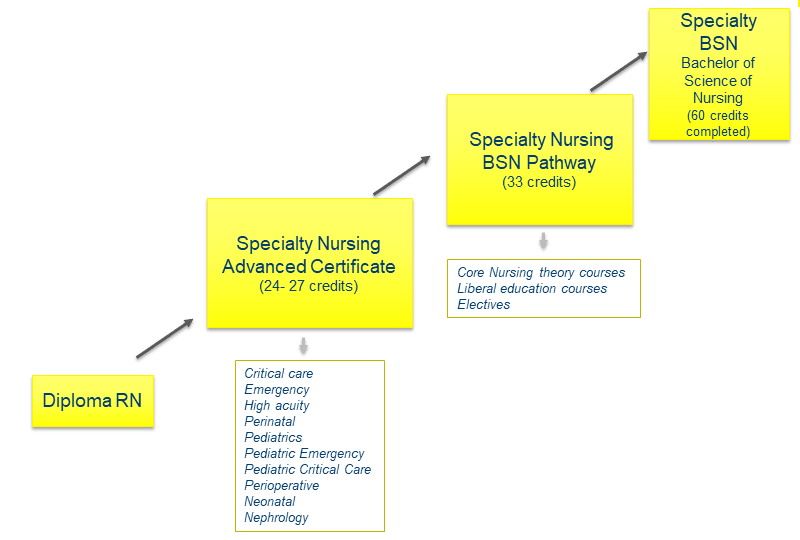 The curriculum, developed in collaboration with faculty, curriculum consultants, employers, learners and practicing nurses, focuses on integrating ways of knowing, being and doing, with relationally based practice.
The processes of critical, reflective thinking, communication, collaboration, systematic inquiry, creative leadership and professional growth, are integrated throughout the program.
Who it's for
This program is for registered nurses who:
Have completed a general nursing diploma
Have recent acute care experience in Canada
Are currently working in or are looking to move into one of the nine nursing specialties offered at BCIT
Please see your specialty option's Program Entry page for specific entrance requirements. Interested students should contact the program head. Also check out Acute Care Requirements for Specialty Nursing for more information.
Your Work Experience Matters
At BCIT we value your work experience. If you've been working in a specialty nursing area or have completed an advanced specialty nursing certificate, take advantage of our Prior Learning Assessment & Recognition (PLAR) process and fast track your BSN.
Program Delivery
The Specialty Nursing programs are part-time, meaning you can learn at your own pace and have up to seven years to complete the program. Distance and online learning gives you the flexibility to work as you study.
The Bachelor of Science in Nursing – Specialty Nursing is comprised of three components:
An advanced specialty nursing certificate program of your choice, with clinical experiences in the specialty area setting.
Core nursing theory courses and project work
General studies courses
Most courses can be taken in any order, except those with prerequisite course requirements. However, we recommend that you complete NSCC 7115 – Teaching and Learning in Specialty Nursing as your first course. Please see your specialty option's Courses page for a full course list.
Students do not need to be accepted into the degree program before registering in degree courses. You may register while your application is in process or while you are completing your advanced certificate.
Contact Us
For more information about the Specialty Nursing degree, please contact:
Janet Morrison, PhD, MA(Ed.), BHSc.(N), RN
Program Head, BSN, Specialty Nursing
Phone: 604-451-7082
Email: Janet_Morrison@bcit.ca
Administrative information:
Sandra McIvor,
Program Assistant
Phone: 604-432-8982
Email: Sandra_McIvor@bcit.ca
Admissions:
Phone: 604-432-8899
Email: admissions@bcit.ca
International email: International_Admissions@bcit.ca