Conducting your railway career
The BCIT School of Transportation offers railway training for students looking for an exciting career with excellent job security and great benefits. Whether you've always been fascinated by trains or you're just starting to explore your career options, our railway job training program can help you get started. From safety protocols to equipment maintenance, we cover all the essentials to prepare you for a successful railway career.
The School of Transportation has been delivering education in the railway sector for over 15 years. We are one of only three colleges in Canada that offers this type of training, however we are the only college that has a certified industrial railway (BC) with the Minister's operating certificate.
Key features of our facility include:
BCIT's own dedicated and secure industrial railway yard for students / trainees to perform railway practical tasks
Over 1650 feet of secure track, with four different switches, GP9 locomotive, a rail car mover and a fleet of rail cars
Associate Certificate
Railway Conductor & Operations
The Railway Conductor and Operations program is designed for students seeking a career in the railway industry. This 3-course Associate Certificate program focuses on practical skills required for employment within many industrial, short line operators and grants the qualifications required to work in a class 1 railway. Students will gain hands-on experience in our dedicated rail yard to expand their understanding of freight/passenger equipment handling, switching cars, making or splitting up trains, or moving cars, sidings, or tracks according to instructions originating with yard, train planners, radio procedures and railway safety.
Find out more
Featured courses
Railway and Rail Yard Employment Skills
RAIL 1001
Gain the knowledge and practical skills required for employment within the many industrial railway, short line and railway supplier environments.
5 weeks, flexible learning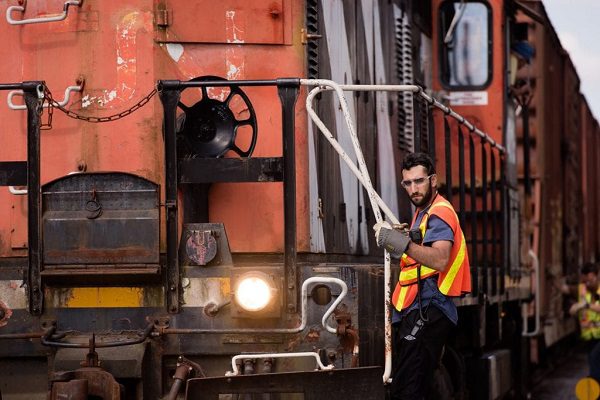 Canadian Rail Operating Rules Certification
RAIL 1010
This course will provide the full Canadian Rail Operating Rules (CROR) that governs federally regulated railway operations in Canada.
3 weeks, flexible learning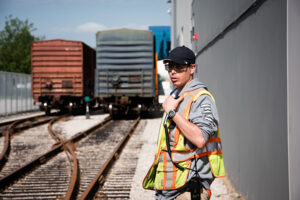 Railway Conductor & Operations
RAIL 1020
This is an advanced course in railway operations, covering the important skills and knowledge essential for employment as a railway conductor.
5 weeks, flexible learning
Additional railway courses
Everything from railway culture, safety, transportation of dangerous goods, air brakes, and non-main track industrial rules.
In addition to the following flexible learning courses, customized flexible learning courses may be arranged.
Documents
Work conditions and requirements
Upcoming information sessions