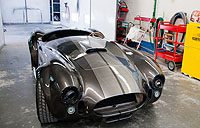 Check out vehicle restoration part-time courses  »
Do you:
Love to work on cars?
Would you like to know more about restoration?
Would you like to be able to restore your own vehicle?
Did you know that the welding techniques used on modern body panels will not work on older vehicles because of the thicker steels used in the past? That's just one of the many tips car/light truck enthusiasts will learn in BCIT's new part-time Vehicle Restoration program.


Developed in response to the growing popularity of collector car restoration, this exciting new program consists of a suite of five 30-hour part-time courses covering:
In addition to learning from the instructors' years of experience, students will be encouraged to share their own experiences with classmates in an inter-active setting.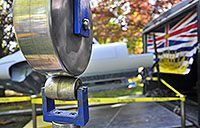 Students will also have the opportunity to apply the skills and techniques learned in class, to hands-on projects within BCIT's collision repair facility located at the Burnaby Campus.
Skills covered within this unique program will be of special interest to professional, amateur classic car restorers, customizers, kit builders, and specialty car builders.
For further information, contact:
Nick Zhang
Program Coordinator, Part-time Studies & Industry Services
Tel: 604-456-8041
Email: Nicholas_Zhang@bcit.ca