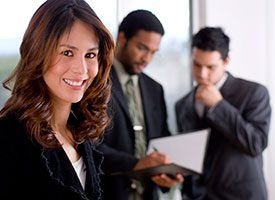 BCIT's Test Centres offer customized, professional testing and invigilation services for groups, corporate clients and other education organizations. We offer the versatility of multiple locations, flexible hours, Monday through Saturday availability.  Customized rates are available for invigilation requests that require additional resources such as exam sessions that are scheduled after hours or require additional proctors.
Why BCIT
Our eight Test Centres on BCIT's Burnaby, Downtown Vancouver, Richmond/Vancouver Airport and Delta/Surrey campuses provide:
over 25 years of invigilation and testing experience with over 75 corporate clients;
11 highly trained and experienced staff;
237 computer work stations, supported by BCIT IT Services;
private room for accommodated students;
video camera monitoring system;
privacy screens on all monitors; and
secured cell phone lockers.