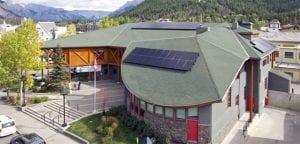 Community energy management spans the traditional silos of current and long range planning, policy, operations, engineering, transportation, finance, and others. This inter-disciplinary sequence of six on-line courses provides a unique opportunity to refresh disciplines that you are already familiar with by viewing them through an energy lens while introducing new tools and concepts.
Community energy management education will provide the knowledge and resources you need to manage the art and science of saving energy, emissions, and money across the community.
How it works
Each fully online course delivers 30 hours of material (2.0 BCIT course credits), which includes online content, readings, videos, self-test quizzes, two assignments, participation in the student forum, and a final exam. A two-hour live online instructed session to review course materials and help keep students on track will be delivered every second week from 6:00 p.m. – 7:30 p.m. (PST). (Note: alternative times will be considered if there are many students from a much different time zone). Completion of course work is flexible during the 5 week period for each course and is anticipated to take around 5 hours per week on average.
"I have to say, the course has been fantastic in how it has helped me bridge between deep energy audits and CEEP outcomes. I believe this is why we have been able to get buy-in so quickly for our project."

P. Amsler (Nativus Energy Ltd.), Manitoba
Contact us
Please contact Alexandre Hebert (Temporary contact) at Alexandre_Hebert@bcit.ca for approval and submit a current resume for review.
In partnership with
BCIT and the Community Energy Association have partnered to develop a new series of courses in the emerging field of community energy management. BC Hydro has provided funding to make this possible.
Community Energy Association
BC Hydro
BCIT