Experience of my semester abroad in Canada at BCIT in 2014
If you plan to study one semester abroad I suggest that you should start early looking into all the preparations. In my case, I had a special interest to go to Canada for my exchange term because as a certified carpenter, I wanted to see how timber construction in Canada is done. When I heard that between HBC and BCIT a special exchange program was installed I started informing myself about the possibilities and the requirements needed for this term abroad.
A specific level of English knowledge is required. To prove my knowledge of English I had to pass the English test in Biberach with a certain mark (No problem and if needed additional courses are available – Studium Generale). Additionally, to that several scholarships are available.
Secondly, it is very important to compare the subjects from HBC and BCIT for your planned exchange term. So I compared the different courses and decided to take four courses at BCIT. I chose which courses would be interesting to take over there with the help of some Canadian exchange students, which have been at HBC during that time. Between communicating with Dean Prof. Dr. Alexander Glock, the International Office (AAA) and your professors you finish your Learning agreement and all other exchange required documents.
I think the most important point in the preparation is to inform yourself as early as possible. For example I decided to go to Canada during my 6th semester. To be able to handle all that I decided to take some subjects of my regular 6th term already in my 4th term and some of them later in the 7th. For me it was very important that the exchange semester was not increasing the overall study time.
My life in Vancouver
I booked a flight from Frankfurt to Vancouver and started my time in Canada on the 30th of August 2014. Before that, I kept contact with a Canadian student from the BCIT who was studying in Germany the term before. It ended up that she helped me a lot in organizing everything I needed to live in Vancouver. With her help I found my first room to stay, I got a local cellphone and I got an overview about BCIT. A helpful website for all room searches in Vancouver is the homepage of Vancouver Craigslist.
At BCIT I got all help I could need and there were some fun parties at the start of the semester.
After arriving in Vancouver I spent a lot of time visiting downtown, hiking in the local mountains, hanging around at the different beaches of Vancouver, longboarding along the sidewalk along the seawall of Stanley Park and partying in the different bars and clubs in Vancouver. I met a lot of very interesting people during my time here and of course an amazing girl as well. Some memorable experiences that stuck with me have been, that everyone is holding the door for the people behind them, that the general public is so disciplined to line up when waiting for the bus, when standing with a map in your hand in downtown Vancouver it will directly cause someone to stop and offer you help.
Now I want to tell you a bit about the different trips I made during my time here.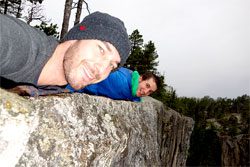 Firstly, I have taken many day trips to visit the different attractions around Vancouver, such as, doing the Grouse Grind on Grouse Mountain, hiking the Chief Mountain near Squamish, an amazing but challenging hike to Lake Garibaldi and visiting the Britannia Mine and Whistler. Whistler for example is where the 2010 Olympic Winter games took place. I spent a few days up there doing some amazing snowboarding.
Secondly, I made some weekend trips further away, for example one trip was to the US down to Seattle, Washington. The trip down there was nice; we visited the Production of Boeing and discovered a couple of nice places in downtown Seattle. In the evening we got lost in a gay after hours club but overall we had a great time there. The only sad thing was that I came in late to the Thanksgiving meal, but of course I got some turkey leftovers.
Another big trip I did was with my girlfriend to Vancouver Island. We started in Victoria, the capital of British Columbia, visited the museum, some local breweries, and rocked the local dance floors. On our second day we continued our trip up to Tofino, the local surfing paradise, and we spent the next day discovering the local area around. We went hiking and enjoyed the sunset on Long Beach.
My studies at BCIT
The way to study at the BCIT is quite different than in Germany at the HBC: At the BCIT the term is about 6 weeks shorter than at the HBC, but you have weekly homework assignments, group projects, midterm exams and final exams. I ended up spending more time at university then I thought I would. But I must say it was very interesting and all the instructors and faculty were very helpful. Especially for me with the background as a carpenter I must say that studding timber construction in Vancouver was very interesting. Studding with my Canadian class mates and under the advice of the teachers was a lot of fun and I learned a lot. Especially in the different group works and assignments I got to know a lot of interesting peoples. I profited a lot of the Construction Management class in which we had the advantage to get taught by a Canadian and a German Instructor. I really liked the personal atmosphere between faculty and students at BCIT. Whenever I had any questions I got good help by my student colleagues and the advisors.
Conclusion
Finally I want to say that the benefits everyone can get out of a term of studies abroad are huge. Personal development, the amelioration of the foreign language and of course you will get to know many interesting people. For me personally I think everyone who gets the chance to study abroad and is not taking this chance is missing some amazing experiences. I loved my term in Vancouver, the country and the people I met there and I suggest it to everyone. If someone is interested in an exchange to BCIT or to HBC for Canadians, feel free to contact me so that I can try to help you.
Timo Mahl
University of Applied Sciences, Biberach