After I got accepted at the British Columbia Institute of Technology (BCIT) in Vancouver my time abroad started in January 2016. After my first couple of days I already knew that I will be excited about Vancouver – the biggest city in western Canada. Reasons for this are the great location of the city – at the ocean while it is in touch with the mountains at the same time. All these circumstances provide a lot of possibilities for walks, hikes, snowshoeing, skiing and many more outdoor activities. Consequently, I tried to spend as much of my free time outside in the beautiful Canadian nature. Grouse Mountain, Deep Cove, Lynn Valley and of course Stanley Park are nice places to go for a daytrip. As soon as you want to go further – Squamish or Whistler – it is useful to go by car wherefore you can also check some car sharing groups on Facebook! I also liked going on Vancouver Island where also BC's capital Victoria is located. Seattle (WA) is also quite close and worth a trip.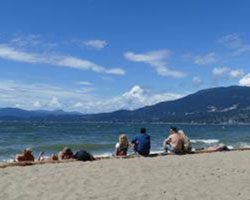 Besides all the great experiences I made in Downtown, the nature or with a lot of nice people I met, school was an unforgettable experience as well. My program in Germany is called architectural engineering anyhow I took civil and not mechanical engineering classes at BCIT. For this reason, there were only fundamentals like maths, physics and hydraulics on my schedule. I didn´t have problems caused by the language more than the different units they use here. For instance, do you know how many feet are one meter or how many pounds are one kilogram?
Following I would like to share some of my experiences at BCIT. The BCIT doesn´t has a very big campus like the main universities in Vancouver – UBC and SFU. It is much smaller and more a place where students go to school and study than a campus where students spend their free time and live. This means that there are not many sport teams, clubs or events you can join.
Besides this circumstances BCIT is a very good school. The professors are really nice and I liked their way of teaching as well as the familiar atmosphere they are teaching in. Also, the different system – courses are split up in lecture, lab and exercise – is something I liked about going to BCIT. Difficult for me were the weekly quizzes, assignments and tests I wasn´t used to. This made studying more stressful then I am used to it in Germany, since there we only have our finals at the end of the term.
All in all, going on an exchange was one of my best experience in life. I definitely recommend anybody thinking about going abroad to do so! It is worth all the power you might have to invest beforehand. In my case this was finishing my semester in Germany two months earlier than usual. Lucky me my school in Germany is small and I got a lot of support from this side. Nevertheless, it was hard -but worth it! To organize your exchange, it is important to start as early as you can. It makes it easier and you have time to get in contact with the international office of your and your partner university as well as with students who have already been there. Nothing helped me more than the experience of people already been there. So, don´t be shy and ask!
To sum up: Canada and it´s people are great – I will come back!
Christina Stärk
University of Applied Science, Biberach