How do we make flight sustainable?
We are on the move again. We live where we want, we work where we want, and for many of us, that means more time on the tarmac. But how can we reconcile all the jet-setting with the realities of the airline industry's impact on our environment? What alternatives to traditional flight are emerging? In this episode, Bianca Rego – who has struggled with a lifetime fear of flying – speaks with Nathan Zvi, climate innovator and host of The Net Zero Life podcast. She also chats with Dr. Eric Saczuk, who integrates his environmental research with adventurous travel to off-the-beaten path destinations, and oversees the Remotely Piloted Aircraft Systems Hub at BCIT.
In this episode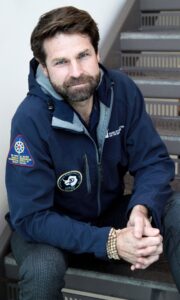 Airline clip 00:00:01
Good evening, ladies and gentlemen, welcome aboard. Those who have located your seat, we .
Bianca Rego 00:00:06
As we explored earlier this season in our episode about regenerative travel, after a couple of years locked down and locked in, we are on the move again, but it's not just for vacation travel. Many of us, especially millennials and Gen Zers, now identify as digital nomads, untethered by static home addresses and offices. We dial into meetings from cafes, kitchens, and co- working spaces. We collaborate across time zones and oceans. We sublet, we Airbnb our way into new cities. Just to try them out. Movement has been integrated into our daily lives, our careers, and our sense of place, which means more time on the tarmac. In this episode, we'll be discussing the future of flight as the industry recovers, what effect is all that air traffic having on the planet?
Dr. Eric Saczuk 00:01:03
If we think about airliners and we think about jet aircraft flying inter- continentally and they're up at 30,000, 40,000 feet and emitting the CO2 directly into that layer of the atmosphere.
Bianca Rego 00:01:16
And what is the airline industry doing so that we can reconcile our love for traveling with its impacts on the environment. Coming up flying Ubers, transformational technologies, and a personal tale of overcoming my own fear of flying.
I'm Bianca Rego and welcome to Fireweed, a podcast brought to you by the British Columbia Institute of Technology. Fireweed is the first plant to grow back after a forest fire. It's known for its resilience and adaptability. We're tapping into one of the fire weed's best qualities. It's resilience. We're exploring stories of adaptation and meeting people who are shifting their behaviour for our new normal. If you have a great story of shifting your pattern to fit the new normal, email us at fireweed@bcit.ca. Today we're talking about sustainable flight. We got slowed down by a global pandemic, but we're back on the go living and working wherever we want. Commercial flight is still wildly inefficient. According to the David Suzuki Foundation, an environmental nonprofit based in Vancouver, British Columbia, the total carbon impact of a single flight is so high that avoiding just one trip can be the equivalent of going gasoline car free for a year. Yikes. The airline industry accounts for 2 to 3% of carbon emissions. That's not as small as it sounds.
Dr. Eric Saczuk 00:02:56
So it's not so much necessarily the percentage that it's responsible for, but it's where it happens. It has a much more direct effect on climate change or where the actual CO2 gets deposited.
Bianca Rego 00:03:10
Bianca Rego: Dr. Eric Saczuk heads the remotely piloted aircraft system or RPAS operations at British Columbia Institute of Technology. Thank you very much for being with me today, Eric.
Dr. Eric Saczuk 00:03:22
Yeah. You're welcome. Great to be here.
Bianca Rego 00:03:24
Eric and his team are battling carbon in the air transport industry in a very interesting way.
Dr. Eric Saczuk 00:03:33
What we focus on here are remotely piloted aircraft systems, which are essentially drones. So they are the mini versions of airplanes or helicopters as you might imagine them. Our mission here really is threefold. The first one is to centralize, coordinate the safe operations of RPAS at BCIT. So RPAS are regulated by transport Canada and therefore we need to make sure that our operations are in line with their regulations and that all of our pilots are operating under those same conditions and same safety elements. We also have a specific BCIT safety policy that governs the use of drones or RPAS. And then we want to also give access to the equipment that we have to students and faculty, and researchers to enable and engage them in research that involves these very cool flying robots, these tools that are so ubiquitous in a lot of industries. And lastly, what we want to do is really connect with industry.
Bianca Rego 00:04:39
As we discuss RPAS, I discover that many of my presuppositions about drones need to be updated. For example, I thought drones were a relatively recent technology. I know that drones just became a thing essentially. So when did RPAS open up and how did you think about starting a drone program?
Dr. Eric Saczuk 00:05:03
I'm glad you mentioned that drones just came on the scene. Drones have been around since the early 1900s, believe it or not. That's something that people don't really…
Bianca Rego 00:05:12
Flying robots since the 1900s.
Dr. Eric Saczuk 00:05:14
Yeah, 1914 was the first remote controlled aircraft that was flown. So the history goes a long way back. A lot of it has to do with the military as a lot of technology gets developed there and then permeates down into civilian applications.
Bianca Rego 00:05:29
World War I drones. Okay, that's pretty interesting. Some of those civilian applications that Eric is talking about include mapping construction sites for increased safety, emergency medical interventions like air dropping a defibrillator to a physician who's treating a patient in a remote location, and perhaps most impactfully, increased use of drone vehicles to ship goods at scale. This is where we get back to our question of more sustainable flight. Every kilo of cargo that we can put on a battery powered drone instead of a fossil fuel powered plane or truck for that matter, makes for a bit of less carbon in our atmosphere. Moving packages with drones makes sense to me, but here's what really blows my mind.
Dr. Eric Saczuk 00:06:17
There are drones that already carry people. There are drones that carry people that already been certified by the aviation administrations to go ahead and start production. So there's a company in Czech Republic that has been certified. There are drones that are flown as a demonstration in Dubai and Australia. So it's definitely a thing.
Bianca Rego 00:06:41
We've all seen the futuristic sci-fi movies where hundreds of meters above the crowded streets of the packed megalopolis lanes of flying vehicles weave between buildings. There's usually some sort of hero jumping or falling between these soaring cars getting chased by some sort of technocratic villains. And the setting is generally presented as something adventurous, something far off, something just fantastic. Eric says, we could have unpiloted drone taxis for people within the next five years. So imagine you're in a big city and need to get across town during rush hour. You pull up your drone Uber app and let's just call it a DRBR. Let's spell it D- R- B- R, because all the cool startups are doing that kind of thing these days.
00:07:33
Robotic Voice: Welcome To DRBR. What is your destination? Drone arriving.
Bianca Rego 00:07:37
And a flying drone shows up to your house to whisk you away to your destination. Blissfully floating above the gridlock suckers commuting in their outmoded wheeled vehicles. Okay, so maybe not right to your front door.
Dr. Eric Saczuk 00:07:54
I don't imagine flying drones landing in front of your house, although that I don't discount that as in the realm of possibility. I would imagine something like going to a sky train station and there being a platform where you could either get into the sky train or you could catch a flying Uber and there'd be no pilot. There would be nobody flying the 'aircraft' that you would essentially plug in your coordinates, your address into the mission control system with a little panel kind of like what you've got on a Tesla, and then off you would go and it would deliver you to the next drop off point.
Bianca Rego 00:08:27
And those futuristic floating lanes of traffic above cities, Eric guesses, will start seeing those within the decade.
Dr. Eric Saczuk 00:08:35
Creating lanes in our cityscapes, in our airspace, and around our cities where drones can safely move around and their movements are coordinated and there are anti- collision avoidance systems in place. We've already seen a lot of that. I'll go back to the Tesla example because of the way that the whole model is structured is to really create an autonomous car that drives itself and avoids pedestrians and dogs and absolutely everything, and actually much better than humans do. We've got crude aviation or piloted aircraft down to about 500 feet over cities, 1000 feet. Drones can operate below that. They can operate below where the crude aircraft would be flying. And so creating that separation between them, but also maintaining avoidance around billings and ensuring that there's no privacy issues and then there's a lot of elements to consider when you've got flying vehicles around buildings and things like that.
Bianca Rego 00:09:42
So sustainable flight isn't just about creating more efficient engines for traditional planes. It can also be about harnessing new modes of flying transportation that are inherently better for our carbon footprint. Personally, I'm not sure I'm ready to get into an unpiloted flying Uber. I'll tell you why right after this. Advance your career with flexible learning in your own time. BCIT offers over 1000 part- time courses in person and online that are relevant and applied. Take a single course or work towards a diploma, certificate or degree all at a pace that's right for you. Start your hands on learning at bcit. ca/ pts. How would you feel about taking an unpiloted automated flying drone across town? We asked a few Vancouverites to see what they had to say.
Speaker 1 00:10:39
I would take a robotic flying taxi across town. I think the views would be amazing and I would trust the AI technology.
Speaker 2 00:10:47
I would potentially use them, but only if they were extremely green. Air travel is one of the biggest contributors to the climate crisis.
Speaker 3 00:10:56
Yeah, why not? I would go because you could see the whole town from there and hopefully less traffic.
Speaker 4 00:11:03
Yeah, absolutely. I would give it a go. I may not be first on board just to make sure that they've worked out the kinks, but ultimately I think it's a great way to get to and from somewhere.
Speaker 5 00:11:14
If it was like a limb where you're sitting in an enclosed area. Then by all means, yes I would. But if I'm strapped to the back of an AI drone or something like I'm in a glider, I wouldn't be down for it.
Speaker 6 00:11:27
As of right now. Absolutely not. I can barely get AI to do things that I need them to do from an automation standpoint.
Bianca Rego 00:11:36
Bianca Rego: In our last segment, we talked about how drones could help evolve humans' relationship with flight in a more sustainable direction. As you can hear from the preceding clips, the public has mixed and strong responses to the idea of unmanned robotic flight. But many of us are nervous enough about flying in the traditional way, let alone strapping into an unpiloted drone. Take me for example. Here's my story. I used to love flying. My dad, who's a notorious travel bug, who immigrated from Brazil to launch an advanced aviation software company for Boeing, would always take me to aviation museums, show me his collection of airplane regalia and tell me stories about the marvels of aircraft. That all changed when I was five. My father and I were on our way to Brazil, taking our usual flight path from Vancouver to Miami, Miami to Sao Paulo and Sao Paulo de Rio de Janeiro. On our way to Miami the plane suddenly dropped. The aircraft began convulsing uncontrollably. It felt like we were stuck in a snow globe that was just being shaken to its breaking point. There was lightning everywhere. Before he could even register what was happening, the pilot told us to assume the crash position, and that was the first time I ever saw my father cry. And then suddenly it just stopped and 30 minutes later, we landed safely in Miami.
The situation was extremely traumatizing. I came to the terrible realization that I actually don't have control over my fate. My fear quickly transformed into a full blown phobia. It took years of severe panic attacks followed by multiple instances of me begging flight attendants to let me off the plane before it took off until I was finally taken to a doctor and formally diagnosed with aero- phobia. Thankfully, this diagnosis came with a perk. I was finally prescribed medication that helped mitigate my panic. Still, whenever I get on a plane, I have a safety routine. I count to 180 as soon as I feel the tires lift off the tarmac because 80% of crashes happen within the first three minutes of departure. After that, I can relax, kind of. I share this story not for sympathy, but just to point out that unpiloted drones aren't everyone's sustainable flight solution. If I do fly these days, I show resilience to my aero- phobia with a nice 12 ounce glass of wine paired with an interesting podcast, accompany that with a weighted blanket, a weighted eye mask and a panic pillow to squeeze, and I'm good to go.
So what I really want to know is what's happening with regular airplanes in terms of sustainability, because for me and lots of other people, we know we need to fly a certain number of times per year, but at the same time, we don't want to fly in unpiloted drones or harm the environment. And as we heard off the top of the show, taking one regular flight is the equivalent of driving a regular car for one whole year. So how can we mitigate that? My next guest is going to answer some of these questions for us. On his podcast, The Net Zero Life, Nathan investigates the climate crisis, how to combat it, and seeks to understand the ideas and philosophies of various leaders working in climate. So everyone can move the world towards net zero. I can't wait for you to hear his take on the airline industry. Nathan's Zvi, Welcome to Fireweed.
Nathan Zvi 00:15:23
Hi Bianca. Thanks for having me.
Bianca Rego 00:15:25
So your bio states that you're a recovering aerospace engineer turned climate podcaster. Can you tell me a little bit more about your engineering background?
Nathan Zvi 00:15:34
Yeah, of course. My engineering background, I've got two degrees, my undergraduates in aerospace engineering, and then I have a master's in industrial engineering.
Bianca Rego 00:15:42
What drew you to becoming an aerospace engineer in the first place?
Nathan Zvi 00:15:47
I grew up in Maryland and I went to the University of Maryland and University of Maryland is in College Park. And College Park allegedly has the longest, continuously operated airport, little tiny regional airport in College Park, Maryland. And they had this little museum and somehow my mom figured out that you could throw birthday parties there. So I had six or seven, I had a birthday party there and I spent the entire time on the flight simulator. I always loved airplanes, I built model airplanes as a kid, I had airplane books. I think for anyone who spends time around them either on the airport or looking at them in the sky, they're totally magical. The mechanics, when I used to work at Boeing, the mechanics would call flying and the science of flying PFM or pure (beep) magic. And I really think that that demonstrates exactly what that working in the airline industry is or wanting to study it.
Bianca Rego 00:16:27
So I know that in your podcast and career, you like to focus your show on carbon emissions. And why is that?
Nathan Zvi 00:16:36
I wanted to do something sustainability oriented. So aviation was my first love, but I like to say sustainability was my second love. Now, whether or not my second love's true, loves to be determined, who knows, sustainability a third. I took a class in my master's degree called Industry and the Environment, and it was all about what's called life cycle analysis, carbon accounting and sustainability and how that intersects with engineering and the industrial world. And it really hit home for me, both on the engineering side, it was a math and science view of the world, which I really appreciate, but it also aligned with my core values, appreciation for nature and reduce, reuse and making sure that we are being a part of this ecosystem as opposed to just trying to take control of it. So I want to do something sustainability oriented. Like I mentioned beforehand, I'm also a control freak. Not that it put words in your mouth, I don't know if you identify as a control freak.
Bianca Rego 00:17:18
100%.
Nathan Zvi 00:17:19
Yeah. Okay, cool. Welcome to the cool kid club or the control kid club. I wanted to do something on the side and I considered a few different options that I could do in addition to my job, I could do on my own time and utilize the skillsets I had and was sustainability oriented. And I considered three different options. One was a blog, one was a newsletter, and one was a podcast. And being the raging extrovert that I am, the podcast was one of the… one of the best options and it also provided me an opportunity to connect with people that I otherwise wouldn't have in a very genuine way. So I used LinkedIn quite a bit to reach out to potential guests. Now I have people emailing me, and again, it brings me such joy and such energy to talk to people, to learn from them, to figure out how their work is bringing the world closer to net zero emissions. And it also filled the space that was needed, that we needed a people telling stories of individuals who are working to bring the world closer to net zero.
Bianca Rego 00:18:05
Yeah, I completely agree. As a wild extrovert myself, podcasting, I love to talk and I love meeting interesting people. So I completely understand where you're coming from. Just touching on the net zero emissions, I know that part of the puzzle of bringing the world closer to net zero emissions is going to be solving problems in the airline industry. So what would you say the current state of the airline industry is regarding carbon emissions and sustainability?
Nathan Zvi 00:18:33
Yeah, that's a great question. I'll try and keep it relatively short because there's a lot to unpack. The general number that gets thrown out is between 2 and 4% of worldwide emissions come from aviation. There's a separate group of individuals and scientists who talk about radiative forcing, which is a very technical term to say that because airplanes are flying up in the atmosphere, there's an additional impact in terms of emissions that we have not yet been able to quantify in the same way we can by actually measuring the amount of gallons of jet fuel burned.
So the 2 to the 4+, there's some uncertainty around that number in terms of percent of global emissions. The big issue is that there's not necessarily a pathway to zero emissions in the same way that there is for power or vehicles. So as an example, renewable energies, zero emissions and electric vehicles, when we have a 100% renewable grid, also zero emissions, we don't yet have a clear pathway on what that's going to look like for aviation. And so the concern is that 2 to 4% levels up to 4 to 8%, and then aviation has left as kind of this big rock in terms of a big carbon rock as in on the humanities global greenhouse gas emissions.
Bianca Rego 00:19:37
So I saw a study once that there's a potential of using french fry oil to help fuel airplanes. So are there any alternative fuels that you can use like hydrogen, circular fuel, sustainable fuels?
Nathan Zvi 00:19:54
Great question and two astute points. So if you think about aviation, there's kind of two pathways to being zero or net zero, and those are sustainable aviation and hydrogen. There's electric as well as a third pathway. But I think many people will argue that electric aviation will never solve long distance or what people call it medium haul or long haul flying. So provided that there's not like an incredible breakthrough that you and I had no idea was going to ever exist. So in the hydrogen world, hydrogen is the most energy dense molecule as I understand it. I'm not a chemist. And there are people, if you want to learn more about hydrogen aviation. I did an episode with Val Miftakhov who's the CEO of a hydrogen startup and they can check it out on the Net Zero Life and he talks to it way better than I ever could.
But essentially if you can put hydrogen in an airplane, which is a big if, and then you can burn it, also a big if, then that's in a way to provide a zero emission. When you burn hydrogen, there's no carbon. So that's one option. And then the other is the french fry fuel or sustainable aviation fuel as you called out. So there's a number of ways to build sustainable aviation fuel, which is more of a circular version. The idea being that fuel comes from either the waste products of existing goods that individuals consume, whether that's the french fry oil or oils from other animal fats or other industrial processes. There's a number of other pathways I'm happy to dig into if you're interested, including sucking carbon dioxide out of the air and then using that to turn into a fuel, which is super cool.
Bianca Rego 00:21:16
I would love to hear more about that.
Nathan Zvi 00:21:17
Yeah, there's a company called LanzaTech or now LanzaJet that does something like this, that basically they capture carbon and then they use that carbon and we'll get nerdy here for a second. They use, it's called a catalyst. They run the carbon over the catalyst, they capture it, they turn it into ethanol, and then they turn the ethanol into jet fuel. That's my understanding. I'm sure again, that there are people who know way, way more, but the important thing is that there's a way to make this process, sustainable aviation fuel circular. That's one option. Another would be to grow crops and use those crops specifically to turn into an ethanol or a biofuel and then use that biofuel to fly airplanes. There are some issues around that as a point source solution, because you have issues around land use change and deforestation and displacing other food crops that may affect emissions because now you're going to have to clear more land to plant more crops and then that incurs emissions downstream.
But in general, I think for a high level, there's hydrogen or sustain aviation fuel. In sustainable aviation fuel, there's a number of different pathways. In either case today we're very much in the research and development phase of both of those. And aviation, as we talked about earlier, is a slow to progress industry for the safety of others. So those multiple pathways we're in the really early phases. There is to be determined, Boeing and Airbus are taking different views. Boeing is like super doubling down on sustainable aviation fuel. Airbus is committed to a hydrogen airplane by 2035, remains to be seen.
Bianca Rego 00:22:41
What airlines or aviation companies are leading the charge, which are ahead of the curve.
Nathan Zvi 00:22:47
Yeah, man, I have a few friends in the industry, so I don't know if I'll call it any specific airlines for fear that somebody in the sustainable world will get me in trouble. But I would say that in general, the airline industry is very committed to this. They know that their customers want to not feel guilty about flying. People love flying. That saying, I believe it's 1% of the population does 50% of the flying. And so flying is this big thing. People love to do it, and when they love to do it, they do it a lot, but they don't want to feel bad about doing it. You asked about, got away from the question, but the like the airline and the industry, the airline industry is doing… is doing it together. And a lot of these leaders and sustainability, they're not necessarily pointing out each other like, " this airline does it wrong, this airline does it…"
It's the same thing around safety. You'll never hear an airline being like, that airline is unsafe. And I'm specifically not mentioning any because that's just not the lingo, that's not the verbiage that people use. I think the same thing is going to be true for sustainability within the airline industry. I can name a few companies on the manufacturing side who are leaders in the space. I mentioned Zero Avia, there's another company called Electric Hydrogen, there's a bunch of electric companies called Beta, Joby, Bear. Airbus I mentioned is working on a hydrogen airplane, although they're not a startup. And then there's also the sustainable aviation side of the house. So there's LanzaJet, there's World Energy, all the big oil companies are getting into the game as well. Shell, Exxon, you name it.
Bianca Rego 00:24:10
Along with being scared of stepping foot on an airplane, I also do feel guilty about the emissions that it does put out into the atmosphere. So do you have any advice for consumers like me that might lessen our impact on carbon emissions and therefore lessen our guilt and stress when we fly?
Nathan Zvi 00:24:33
It's tough. It's tough. There's general anxiety around the whole climate change, climate crisis more generally, and I definitely can't help with that. But I could call you to therapists who can, and maybe this will be helpful to hear as well. Dr. Kimberly Nicholas wrote a book called Under the Sky We Make, and she touches on this more eloquently than I will as well. So people should go check out that book. She calls out individuals who should fly less. If you want to feel guilt… if you want to stop feeling guilty or stressed, you can fly less. That's the easiest thing to do. But again, I personally love flying. I live far from my family. I enjoy that, I'm a proper millennial. I like that idea of travel, although I live in the Pacific Northwest and it's pretty beautiful here. So I'm trying to make the most of it by where I can.
So when John Oliver released a diatribe, I don't know if you want to call it that on carbon offsets, but I personally don't buy carbon offsets, and it's not something that I consider impactful or additional. Instead, one of the things that I coach people to do on my podcast is contributing to a climate charity, or climate policy that's very meaningful for you. There are a number that I can recommend for those who are interested, but they don't directly correlate to aviation. The thing that you can do as an individual is to let your airline know, email them, find their sustainability leader, find their CEO on LinkedIn or Twitter or whatever it is, and just let them know that you really care about sustainability, you care about the climate and that you want them to speed up this transition.
Bianca Rego 00:25:46
That's some really good advice. Thank you so much. I never even thought about reaching out to the airlines themselves. So you mentioned carbon offset programs. Can you explain why you're a little more suspicious about those?
Nathan Zvi 00:25:59
Yeah, suspicious is a strong word if I can qualify your statement. But I would say that it's a personal choice that I choose not to participate in based on my understanding of the work. I think the greatest argument for carbon offsets is that it is a tool that we have to pull carbon. Whether that tool is perfect or not is a different story. And we don't judge. We don't ask… we don't ask baseball players to hit, get a hit every time, right? I apologize for the sports reference for people who aren't into sports. But for instance, a good batting average is like every 3 at of 10 at bats, you have a hit, right? So that's pretty good.
But the same is not necessarily true for carbon offsets. We expect them to be a 100% perfect. There are many, many, many instances of offset projects being poor, to say the least. And there's tons of research that I can point people to that that want to go into. That's saying there's a number of carbon offset projects that meet criteria that are truly additional and remove carbon from the atmosphere. I personally don't choose to participate in those programs because I can't figure out which ones are good and which ones are bad. And also it's not from my perspective, the most effective way to make change.
Bianca Rego 00:27:01
Thank you so much for teaching me about sustainability in the airline industry and also for helping mitigate my fear. It really does mean a lot and you've been so great to have. So thank you very much.
Nathan Zvi 00:27:15
Nathan Zvi: Yeah. No problem. No problem. Thanks for having me, Bianca. Really love the work you're doing. Excited to be a part of it.
Bianca Rego 00:27:21
Thank you so much. I'm excited for you to be a part of it as well. You've been listening to Fireweed, a podcast, brought to you by BCIT. I'm your host, Bianca Rego, and I'd like to thank my guests, Dr. Eric Saczuk and Nathan Zvi. If you like what you heard, I hope you'll keep on listening and sharing episodes. Help us spread the word about some of the incredible adaptation, ingenuity, and resourcefulness we have in this region. If you have a comment on a story or an idea for an episode, reach out via email at fireweed@bcit.ca or on Instagram at @lifeatBCIT. Have a safe flight. Fireweed is brought to you by BCIT with story and audio production by JAR Audio. Thanks for listening.