Regenerative Travel
Travel is back! As Generation Z heads out to explore the world again, they're looking for ways to travel greener, smarter, and with less impact. In this episode, host Bianca Rego learns about regenerative travel — the movement that encourages travellers to leave their destination better than it was before. She talks to two Davids — BCIT instructor David Tikkanen and David Leventhal from the Regenerative Travel group of resorts — about how travelling can help make the world a better place. And she meets Randy Louie, a cultural guide at the Klahoose First Nation Wilderness Resort on BC's Sunshine Coast.
In this episode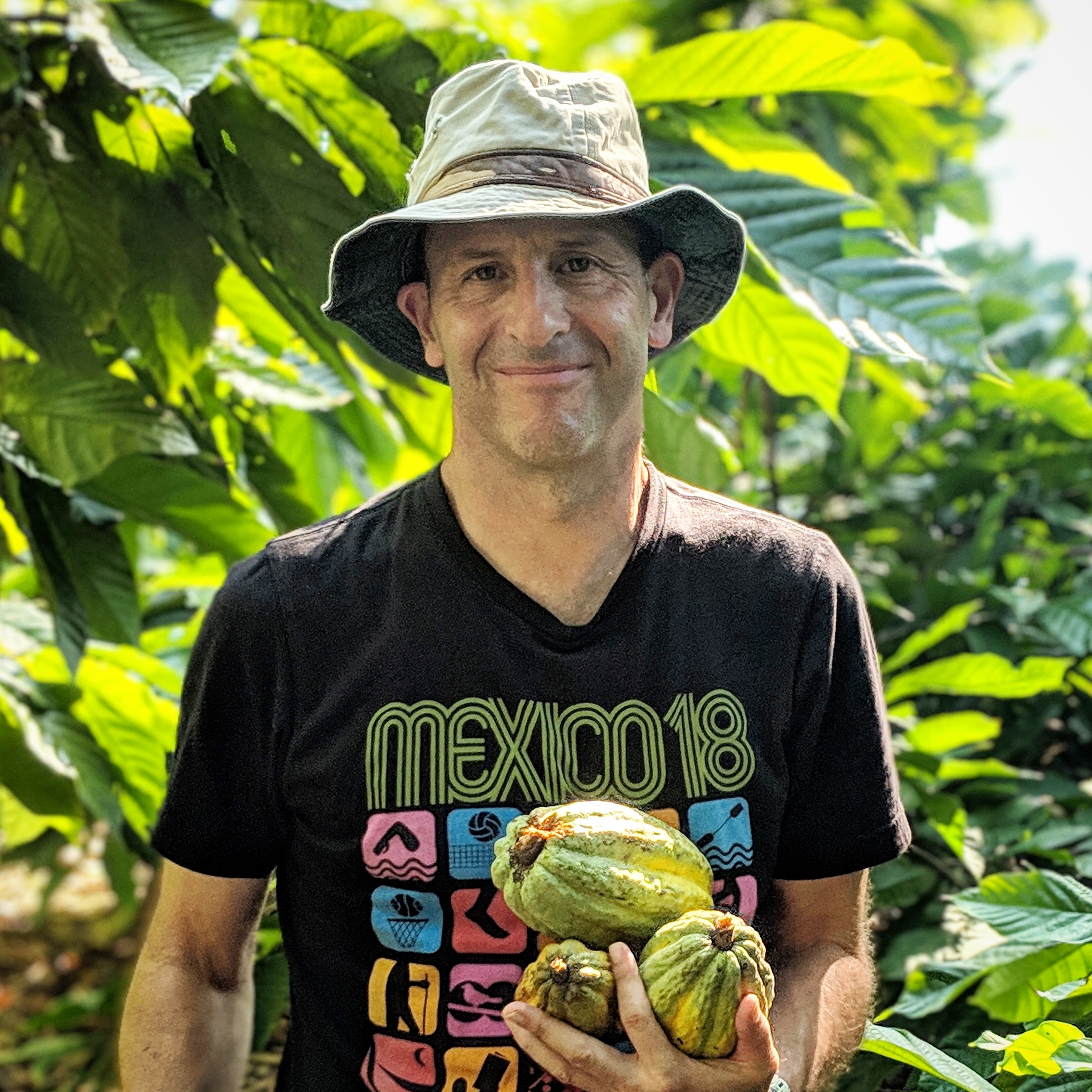 Bianca Rego 
Before the pandemic, tourism was growing faster than any part of the economy, that was great for business, but it wasn't so great for the planet. Tourists and short-term rentals took over; cities like Venice and Barcelona were so overrun, they even tried to keep visitors away. But as we come out of the pandemic, there is a taste for something different, especially among younger travelers. Recent industry surveys found that travelling is a top priority for millennials and Gen Z voters. They're socially and environmentally conscious, and more than anything, they want an authentic experience. Listen to what these travelers had to say.
Jose
My name is Jose, I'm from Mexico. I like actually like wandering in the cities. I love being outdoors.
Rebecca
My name is Rebecca. And when I travel, like one of my favourite things to do is actually to visit the local markets.
Jose
I'm not into that kind of consumption is the way of travelling, I do the local thing. I'll stay with locals.
Rebecca
We love street food. So we go to the places which, like, tend to be full of locals. And you know, that might be just sitting on the sidewalk, eating some soup in Thailand or whatever.
Jose
Like I think people are also a very important part of when you travel because you're connecting with people and when they want to share, I think that's one of the best memories that you can get when you're travelling.
Bianca Rego 
Luckily for Jose and Rebecca, the travel industry is responding with what it calls regenerative travel. As a tourist, you don't just try to minimize your impact, you actually leave things better than you found them. It's the next frontier, and it's one way the tourist business is adapting as it tries to recover from the pandemic. I'm Bianca Rego, and welcome to Fireweed; a podcast brought to you by the British Columbia Institute of Technology. Fireweed is the first plant to grow back after a forest fire. So we're tapping into one of the fireweed's best qualities. It's resilience. We're exploring stories of adaptation and meeting people who are shifting their behaviour for our new normal. If you have a great story of shifting your pattern to suit the new normal, email us at fireweed@bcit.ca. Randy Louie knows a lot about resilience. He's a member of the Klahoose First Nation, and he's the cultural ambassador of the Klahoose Wilderness Resort on BC's Sunshine Coast. The resort is 100% Indigenous-owned. Although the staff there don't use the term regenerative travel, it's essentially what they're doing. Randy told me that his wish is by teaching visitors about his culture, he'll help with the reconciliation process in Canada.
Randy Louie
I welcome the people. I sing songs for them. I give them some teachings about Klahoose and some of the history that happened. And we kind of try and keep them interested in the cultural part. So we have weavings over there and I show them my carvings and I make little paddles for them, for like necklaces. And on the last day I end up giving them those paddles. Kind of like a handshake for you know, being here and thank them for coming in this way.
Bianca Rego 
And what's your favourite story to share?
Randy Louie
My favourite story? I guess it's one that Klahoose used to live in Toba; there used to be 2000 people that lived there. And there was that story that catches their attention, and they wondered why people moved away from Toba, and it was just because of smallpox. They were getting sick, and they couldn't fight it. And it was because of residential schools, and it was because of money. When money was introduced, everybody had to make money for food, and that's why they moved away is because Toba is so far out there, and before we used to live off the land, we used to live off the water, and things were changed for us.
Bianca Rego 
When you're explaining those stories how do they react?
Randy Louie
As soon as the topic comes up, you can feel the room get heavy. It's like they don't make that eye contact anymore you know, it was like, I let them know that it's okay to talk about it. You know, it's, 'I'm really glad that you guys are here'. And then they look up and as soon as I got their attention, I said don't, don't feel bad about that, because we you know, we're working together right now to make it better. You know, our families need to hear this, and you need to hear this too. And so you can share it with your friends and family when you go home. And you guys have a big responsibility now when you go home. And when you're talking about it, be proud, be honoured that you get to share this story with other people and, you know, kind of like try and make them feel proud enough to put their heads back up again. And that's what I like is to see them not so tensed up.
Bianca Rego 
So maybe Randy doesn't use the term regenerative travel, but you can sense the level of healing that goes on in the room and the difference he's making by telling these stories to visitors. As he says, the outcome that they then tell their stories to other people is regenerative. It encourages respect for First Nations lands and people. Regenerative travel is a buzzword for sure. But it's also a great idea that stems from our increasing awareness that we all share life on this planet and need to take care of it and to take care of each other. To learn more about It, I'm going to introduce you to two David's. First up, David number one, David Leventhal is the founder of regenerative travel. That's a global network of resorts that offer regenerative travel experiences. He runs the Playa Viva resort in Mexico. First of all, can you tell me what is Playa Viva?
David Leventhal
Yeah, Playa Viva is a regenerative boutique hotel with 19 rooms located on 200 acres and a mile of beachfront near Zihuatanejo, Ixtapa, Mexico; and you walk out into the beach, and you look left, and you look right, And you see nothing as far as the eye can see, except for the local fishermen coming in and your fellow guests that are there, and certain mornings you may see a turtle going back into the ocean after laying eggs. You will see dolphins playing in the waves; you will see whales breaching in the distance; it is absolutely immersion in the natural environment and what I call the luxury of nature.
Bianca Rego 
David, we just heard Randy Louie describe a bit of what guests experience when they visit Klahoose Wilderness Resort, how does that fit in with your concept of regenerative tourism?
David Leventhal
Bianca, first of all, just hearing Randy gives me chills when he talks about feeling the room get heavy. But you start off by saying regenerative travel is a buzzword. And for me, yeah, it can be a buzzword, but it can also be a paradigm shift. And that paradigm shift is about how we think about what our role is as travellers. And part of that paradigm shift is moving from scarcity to abundance. It's also about moving into honouring history of place and honouring place and honouring people. And I think what Randy's talking about is combining all of that. He is honouring you in coming and having that cultural interchange where he's carving something for you. He's sharing his story, and the value of the story he's sharing with you comes in your sharing it with others, and, you know, going from a heavy room to people looking at you in the eye and respecting that story and then telling that story is transformational.
Bianca Rego 
I completely agree; when I was speaking to Randy, I got chills as well. So I would like to hear your definition of regenerative travel.
David Leventhal
So it's not about slowing down or stopping and being sustainable. It's about reversing and bringing back that abundance and that's regeneration. So a simple example that I like to use is, you know, going camping, we hear about Leave No Trace behind, right? Well, sure, you know, it's like you go down the trail, it's not about throwing your bottle out, it's also not about just picking up your bottle, but it's about the fact that our landscapes are so degraded that how do we begin to repair those landscapes? I think Randy talks about it from a cultural standpoint and being okay and talking about we need to work together, which I think is a beautiful statement. But I think we need to change our perspective in the sense that travelling is not about what am I going to extract? But what am I going to be part of bringing back?
Bianca Rego 
That's a great way to think about it. So when you were building your resorts, what was your experience understanding the area in which you were building and how did that impact how your resort works and looks like today?
David Leventhal
One was looking at a whole systems approach to what we do. So not really coming in and saying, we're gonna put these boxes in these locations on this land, from the outside, but really begin to understand the land and what the land is telling us it needs. Okay, let's look at the soil, the geology, the anthropology, the archaeology, the spoken word history of place, the biology of looking at flora, looking at fauna, the water flow, the sun, the people-flow through the system – everything – and you layer that one on top of the other on this map. And it sounds kind of woo-woo, but it's like the land told us what it needed.
Bianca Rego 
So if I were to go on a regenerative trip to your resort at Playa Viva, what is a concrete example of what I would do?
David Leventhal
Funny, you should ask that. Because so many people they are wanting to pre-plan their trip, and we do something that most hotels don't do, which is we say, 'Bianca, you're not going to do anything for the first 24 or 48 hours, you're not going to plan a thing. You're just going to come, and you're going to get immersed in nature'. And as one gets put, it takes about 24 or 48 hours for the Playa Val-ium to kick in. And, you know, you laugh, but it is true, you can see it on people's faces, they just reach a new level of just tuned in. And that really comes from being immersed in the luxury of nature. And then once you're there, okay, now we'll start figuring out what's right for you. And it may be, you know, yoga classes and massage and walks on the beach and maybe heading out to the farm and really connecting to the food of the place and maybe getting out into the community and going up for watershed on a four-by-four. Having a meal, breaking bread with a local community that lives off-grid.
Bianca Rego 
What is one example that differentiates the relaxation process and the immersion into nature at Playa Aviva, then from other typical resorts you can find in Mexico?
David Leventhal
I would say a very simple example is when you're about to take a walk on that beach where you don't see anything or anybody but nature is there's a little sign with a little hook with a bunch of bags made out of recycled billboards that say 'if you're going to take a walk, grab this bag, and fill it up with some trash on your way, and bring it back to our team so we can help dispose of it in the right way'. And so, luckily, people do that. And the beach in front of Playa Viva, for a long ways, is actually cleaner than it's ever been. Now, it's not just our guests, we also do environmental education with little kids in the local community who come down and release the baby turtles back into the ocean and then participate in a beach cleanup so that they can see, oh, wow, when I throw that water bottle out or that piece of trash into the river, it ends up here and they see that connection.
Bianca Rego 
This is Fireweed; a podcast brought to you by the British Columbia Institute of Technology. I'm your host, Bianca Rego and I'm talking with two Davids about how to make sure that a regenerative travel experience is the real deal. I'll get back to them in just a minute. But first, I want to tell you about BCIT's School of Business and Media. It offers more than 120 unique programs. That includes tourism management, marketing and digital arts, business administration and broadcast communications, which is where I studied, by the way. Learn by experience through real-world education. Start your hands-on learning at bcit.ca/business. Okay, so what I've learned about regenerative travel so far sounds great. But I have a lot of questions about how travel over a long distance can be regenerative, especially if you have to fly. So I reached out to the head of the tourism sales and marketing program at BCIT. David Tikkanen, but you can call him David Number Two.
David Tikkanen
The airlines understand that they are kind of like the 80,000-pound gorilla in this and that we really need to crack the nut on air travel to help make regenerative travel a reality. And so there's Virgin Airlines is one of the leaders, as is in New Zealand in using sustainable aviation fuels, which is basically like biodiesel; you might have heard of biodiesel made from french fry oil that you can run a diesel car on while they're developing that for airplanes as well. So you could fly, you know, from Vancouver to New Zealand on an aircraft powered by sustainable aviation fuel. Currently, we don't have the capacity globally to produce enough sustainable aviation fuel to meet the demand. And currently, it's more expensive, so it's going to be something that in the developed world will be much easier to implement than it will be in developing countries where air travel is a huge barrier for people for economic development.
Bianca Rego 
So back to you, David Leventhal, or David Number One, what is your response to that?
David Leventhal
What I want to do is point to a book by Paul Hawken called Drawdown. So, what Drawdown does is it gives you a list of here are the top contributors to carbon and here are some things we can do to begin to mitigate and reverse. So on page 187 of the book, there's a list of like the top 20 items. Air travel isn't in those top 20 items. Number one on that list: air conditioning, okay. In the top 10, like another four or five about food, food waste, getting on a plane is number 70-something on that list. So if you get in your electric vehicle, your car, which was charged by the sun, from your own roof, and you drive to a hotel, and the air conditioning is on full blast, you eat a lot of beef that was imported from Argentina, they're not supporting, you know, education, local girls, where they are, you're doing so much worse than if you got on a plane, and you went to a regenerative hotel that is practicing the top 75 things on that list. So you know, where I come from the south, they say don't throw out the baby with the bathwater. And I think that's what people are doing with air travel, they it's so easy to just blame the jet when there are so many other downstream decisions.
Bianca Rego 
So there's been a lot of greenwashing in the sustainable travel industry. For example, a lot of hotels now ask you to reuse your towels, which suggests they're eco-friendly, but it doesn't tell you much about other less sustainable things they may be doing, such as air conditioning, as you brought up. How do I know when I sign up for a regenerative travel experience that it's actually the real deal?
David Leventhal
The towel is you, I mean, you're saving water and it's a good thing. But I agree with you if that's all they do, that's not a great thing. Part of what regenerative travel began to do because people said, you know, how do I know what's regenerative? And early on, we really had to get to the point of defining it. Are you supporting the local community? Are you sourcing locally? Are you paying a fair wage? Do you have, you know, transparency in your government? You know, I think they're little telltale signs, right? Unfortunately, there's no kind of like, Good Housekeeping Seal of Approval, or, you know, a particular stamp right now for this. That's something that, hopefully, that regenerative travel can do over time; it's important that you constantly are improving and constantly getting better. And if you can just say, oh, you know, we're gold. We're golden; we're done, we're fine – then you're not regenerating.
Bianca Rego 
That makes a lot of sense. It's really interesting to see that there are all these boxes that go into making someplace regenerative, and the effort it takes – the reward is worth it, which is great to see. And that brings me to David Tikkanen, who told me that one of the issues with regenerative travel is that for most people, trips like this are inaccessible because they're usually expensive and they're also hard to find.
David Tikkanen
It's not you can go to Expedia and say I want to go to Germany for two weeks this summer, and I am most interested in the sustainability of my trip. Currently, the way we filter in travel is by price or of dates. So hopefully, within five years or so, we'll be able to go to Expedia or booking.com, and we can filter by carbon impact, and actually calculate the hotel impact and the activities that you're choosing to do, the flight as well, and sort of give you a picture of this is this is what you're choosing to buy.
Bianca Rego 
So, David Number One, you run the Playa Viva resort in Mexico. What do you think the tourism industry needs to do to encourage regenerative travel?
David Leventhal
One thing is awareness, so that we begin to promote places that are offering those types of options. I think the other part is expensive. It doesn't have to be expensive. I mean, from Playa Viva's standpoint, we know that people aren't sitting around the table creating meaningful community of Playa Viva because they want to talk about the deal they did and the watch they're wearing; they're there to talk about how are we making this place a better place for the next generation. And so they want people at the table who have come from different socio-economic levels and our price points reflect that.
Bianca Rego 
As tourism in general recovers from the pandemic, how badly does the industry need a new approach to travel in order to survive?
David Leventhal
I think we need to relook at all of our industries. So regeneration says we need to create more resilient systems, and that applies not just in tourism, not just in automotive, not just in agriculture and food. But this is where I believe regeneration and that paradigm shift has to be the paradigm for the next generation. This is next evolution of humanity is to move in a regenerative way. It's not just about tourism.
Bianca Rego 
That was lovely. Thank you, you have been incredible. You have opened my eyes and to the future of what travel can be, and how exciting it is and how we can still look forward to relaxing on a beach while also doing something good for the community and for the environment. It's just an amazing thought. And I'm glad that we're moving that way in the future. So thank you so much.
David Leventhal
Well, thank you, and I think travel can be a force for positive change.
Bianca Rego 
I'm Bianca Rego. This is Fireweed. A podcast brought to you by the British Columbia Institute of Technology. I learned so much today about the importance of regenerative travel. I love to travel, and I'm actually planning a trip to Costa Rica. I researched a bird sanctuary that helps with species that are going extinct. And I'm gonna make it a priority to go there so I can make a small positive impact on the area that I'm visiting. I hope this episode has inspired you to do the same. A big thanks to our guests Randy Louie and our two Davids— David Leventhal and David Tikkanen. If you like what you heard, I hope you'll keep listening and sharing episodes. Help us spread the word about some of the incredible adaptations, ingenuity and resourcefulness we have in this region. If you have a comment on the story or an idea of an episode, send me an email at fireweed@bcit.ca Thanks for listening. Fireweed is brought to you by BCIT with story and audio production by JAR Audio.