The Building Science Centre of Excellence is equipped with advanced facilities and equipment that enable experiments under controlled environmental conditions, as well as experiments under real outdoor conditions. Our field monitoring equipment can also be deployed to evaluate the in-service conditions of buildings. Experimental and field data feed our advanced computer models to accurately simulate building performance at the materials, components, systems, and whole building levels.
The Hygrothermal Property Measurement Laboratory (HPML) is equipped with test apparatus to measure hygrothermal properties of commonly used construction materials including vapour permeability, isothermal sorption, water uptake, and thermal conductivity.
The laboratory is available for industry services and contracted research.
The Building Envelope Test Facility (BETF) is a unique research, development and demonstration resource created to evaluate the hygrothermal performance of full-scale building envelope assemblies and associated products under simulated indoor and real climatic outdoor conditions. It is the only known two-storey facility of its kind located in the west coast rainforest environment.
The 44′ by 28′ (13.5m by 8.6m) two-story structure has a capacity of accommodating in total 62 4′ by 8′ panels. A broad range of building envelope wall assemblies can be tested, from wood frame construction to steel, concrete, and masonry assemblies, including window walls and curtain walls. The test panels can also incorporate windows and doors. Test panels can be various sizes, from 4′ wide by 8′ high to 8′ wide by 16′ high to a maximum size covering the full length and height of the facility. The panels are removable allowing for ease of implementation of any type or location of testing required. The facility is designed to have the flexibility of changing the size of roof overhang and roof geometry, and the ability to test balconies and floor/wall junctions. The structure will allow various roof assemblies to be added on and tested as needed.
Two mechanical systems are fitted within the facility allowing the separation of interior spaces into two conditioned horizontal zones in the future, and each system has the capability to maintain indoor temperature within a range of 18-26ºC with a precision of ±2ºC and relative humidity within a range of 40-80% with a precision of ±5%. The structure also allows for construction of a complete second floor over the entire floor area and allows for subdivision of the interior space into individual rooms within the two HVAC zones.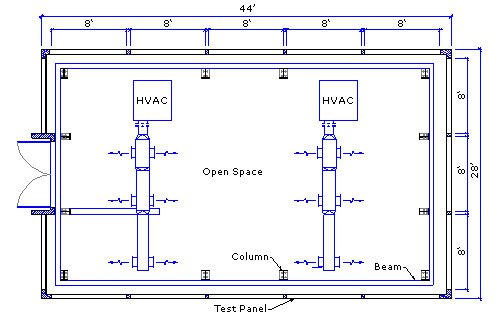 The facility is equipped with a data acquisition system having a capacity of over 600 channels allowing for the monitoring of hygrothermal conditions within wall assemblies including temperature, relative humidity, moisture content, heat flux, air velocity, wind-induced pressure, and incidence of condensation and rain penetration. Microclimate conditions including wind speed, wind direction, solar radiation on both horizontal and vertical surfaces, horizontal rainfall and driving rain on wall surfaces are also collected.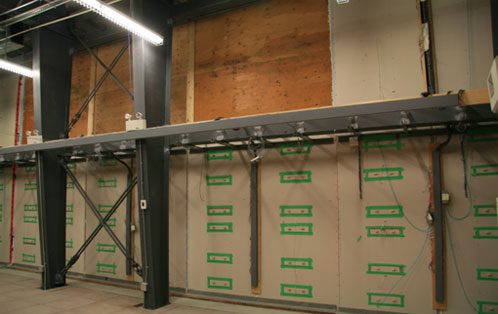 The facility is designed as a multi-purpose research, testing, and training facility. The facility has research capacities to:
Advance knowledge in quantifying wind-driven rain
Evaluate and develop effective rain control strategies
Evaluate the long term hygrothermal performance of innovative envelope systems and building material
Investigate the impact of building envelopes on indoor environments, i.e. thermal comfort, daylighting, natural ventilation, etc.
Exposure to the unique climate conditions will allow manufacturers, associations, and organizations to gauge the impact on building products or processes in a real-world environment. Objective, third party research and proof of concept projects will allow them to ensure their products will perform satisfactorily under conditions experienced in the field. Centrally located at the Burnaby campus of BCIT, the facility is also well situated for public demonstrations and exhibits.
Seed funding for the BETF project was provided by the Canada Mortgage and Housing Corporation (CMHC), the Homeowner Protection Office (HPO), and FP Innovations (formerly Forintek Canada Corporation). Funding for construction of the infrastructure was provided by the Canadian Foundation for Innovation, the BC Knowledge Development Fund, FP Innovations, BC Housing Management Commission, and BCIT. Western Economic Diversification provided funding to assist with preparation of the grant application.
With flexibility to accommodate up to 62 differing wall panels at one time and with the aid of a 600-channel data acquisition system, researchers at BCIT are poised to conduct state-of-the-art research in building envelope performance.
We currently have a rudimentary test chamber for air tightness and water penetration testing of window and wall assemblies. This facility has been frequently used by Architectural and Building Technology and Architectural Science degree students for their term projects. A mid-scale chamber with more sophisticated functions in evaluating water penetration, air leakage, and weathering is under development. This facility will have the flexibility to perform industry standard tests for quality assurance as well as special purpose tests to support research activities.
The Environmental Chamber is a multi-purpose testing facility to evaluate the performance of full-scale building envelope systems under controlled environmental conditions. The design and manufacturing of the facility had been completed, and it is currently being assembled.
Field studies are essential to evaluate the real operating conditions of buildings, and to validate and calibrate models and experiments. Field studies help answer questions such as the following:
Was the installation done correctly?
What are the real moisture loads on a building due to occupants' daily activities?
Does people's behaviour impact energy use?
The BSCE evaluates, instruments, and monitors occupied buildings using the following equipment:
Envelope Evaluation

Condition assessment – Infrared thermography
Envelope air-tightness – Blower door

Outdoor Environment Monitoring:

Weather station: temperature, relative humidity, rain, wind-speed, wind-direction and global solar radiation
Wind-driven rain guages placed at strategic envelope locations

Indoor Environment Monitoring:

Temperature and relative humidity loggers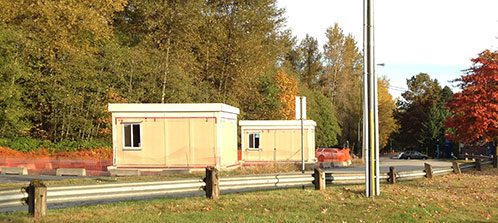 The Whole Building Performance Research Laboratory (WBPRL) is used to conduct research on the dynamic interactions between building envelope components, the indoor environment and mechanical systems.
The laboratory consists of two identical 250-square foot buildings that are fully exposed to natural environmental conditions. One of the buildings is used as a reference and the other one as a test building during the evaluation of alternative design options.
The building envelope components, including all the walls and the roof, are removable and fully configurable to allow testing of various building envelope systems. Each building is equipped with separate mechanical systems for heating, cooling, ventilation, humidification and dehumidification.
The WBPRL is used to evaluate various building design options in a holistic way with the objective of choosing design parameters that can lead to a reduction in energy consumption while maintaining the indoor humidity at an acceptable level for occupants' comfort and health, and prolonging the durability of building envelope components.