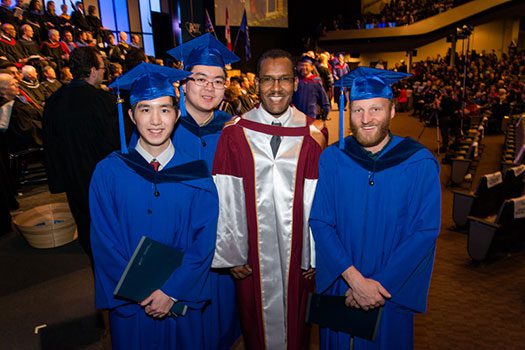 The Building Science Graduate Program was launched in 2011 in a response to industry demand for qualified practitioners in building science. It is the only program of its kind in Western Canada. Offering a unique curriculum combining applied learning with theoretical concepts, the Building Science Graduate Program offers three credentials:
Building Science graduate students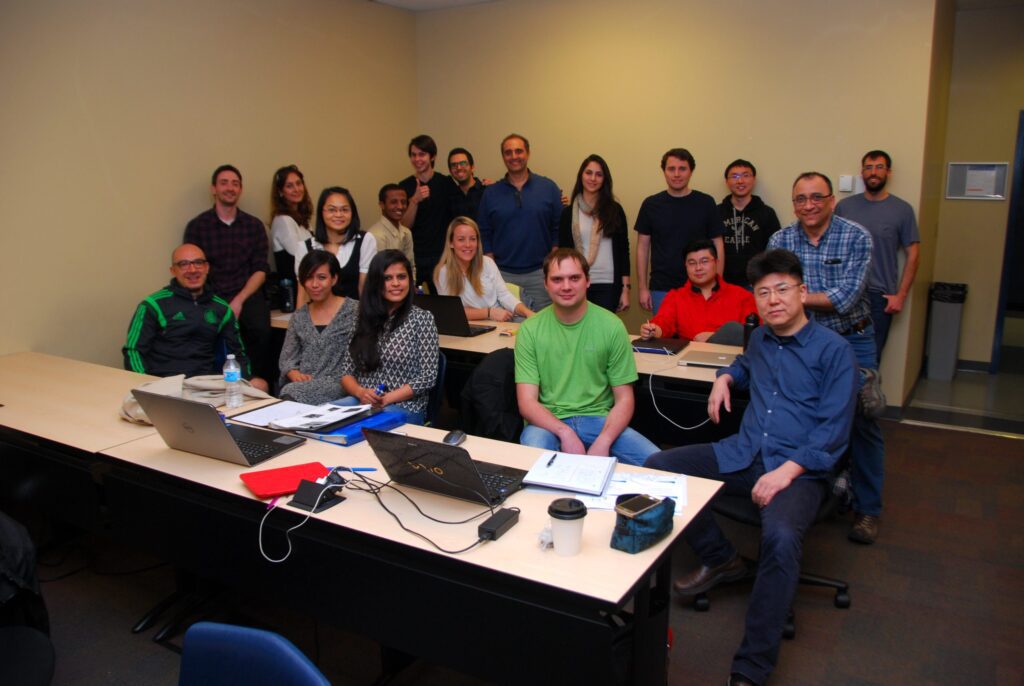 The supply of professionals in Building Science has traditionally been met through on-the-job training and educational programs that combine courses from a number of related disciplines. However, this supply continues to fall short of growing demand in the industry as employers pursue new opportunities in both domestic and foreign markets and building technology is rapidly evolving to respond to economic growth and social and environmental concerns.
The BCIT Building Science Graduate Program establishes a unique, interdisciplinary curriculum that provides students with an integrated science-based body of knowledge and skills necessary to meet the challenge of delivering durable, healthy, energy efficient, and sustainable buildings. The curriculum focuses on advancing the state of practice and responding to future trends, with due consideration given to practical applications.
The program offers two Master's degrees: A Master of Engineering (MEng) in Building Science degree combining an intensive set of courses with an applied research project, to be completed in 16 months on a full-time basis; and a Master of Applied Science (MASc) in Building Engineering/Building Science requiring one year of coursework and a more in-depth fundamental research project. Both programs can also be taken on a part-time basis to be completed within 3 to 5 years.
Please visit the BCIT Building Science Graduate Program for more information.
Completed research projects
Master of Engineering graduates
Alternative building materials: testing and modelling phase-change materials (PCM) for thermal comfort and energy performance under Vancouver climatic conditions
Rocky Tam, M.Eng. 2012
Condensation risk assessment of window-wall facades under the effect of different heating systems using THERM (FEM) and CFD simulations
Derek Yan, M.Eng. 2012
Quantifying the impacts of moisture content and load on vertical movement in a simulated bottom floor of 6 storey wood frame buildings under controlled boundary conditions
Luke King, M.Eng. 2012
Three-dimensional analysis of thermal bridging in high-rise window wall systems using the concept of linear and point transmittance
Alden Kung, M.Eng. 2012
Master of Applied Science students
Field investigation of moisture buffering effect of materials on indoor environment and energy efficiency
Shahrzad Pedram, M.A.Sc. 2016
Sensitive Homes: Remote Sensing and Monitoring Integral to Homes. A Pilot Study of First Nation Homes on an Urban Reserve
Loveleen Atwal, M.A. Sc. 2015

Multi-Objective Optimization of High Performance Residential Buildings Using a Genetic Algorithm
Kelvin Liu, M.A.Sc. 2014
Probabilistic assessment of energy and moisture performance of building components
Iraj Manshadi, M.A.Sc. candidate

Three-dimensional, coupled and transient heat, air and moisture transfer in three-dimensional corners
Farhad Hemmati, M.A.Sc. candidate

BCIT – Concordia University student
Field experimental investigations of rain penetration into wood-frame wall systems
Elsa Ngudjiharto, M.A.Sc.

Summer student
Characterizing the airflow characteristics of various wall panels
Jordan Ho, B.Eng.