About the Zero Energy/Emissions Buildings Learning Centre (ZEBLC)
Net Zero Energy/Emissions Construction
The BCIT Zero Energy/ Emissions Buildings Learning Centre (ZEBLC) exists to support the construction industry's transition to the BC Energy Step Code, City of Vancouver's Zero Emissions Building bylaws and CleanBC's strategy. The ZEBLC goal is to be the leader in BC and Canada of practical training for zero energy/emissions building science and construction. Our purpose is to contribute to building provincial and national capacity in the field of Zero Energy/Emissions construction.
We provide a full suite of courses that are short and hands-on at the High Performance Building Lab and online. Our courses help different construction practitioners with understanding the building science and construction details and practices associated with the BC Energy Step Code, the Passive House standard and low Embodied Carbon design.
Energy Management and Building Controls
The BCIT Zero Energy Buildings Learning Centre (ZEBLC) also supports the industry by offering a suite of programs designed to drive down energy consumption and greenhouse gas emissions from the existing building stock.  Our energy management certificates have already prepared hundreds of professionals for a rewarding career that focuses on addressing our climate crisis.  Our certificates are 100% online and part-time, perfect for busy professionals wanting to evolve their career.
We work with amazing professionals from around the province at making the BC Energy Step Code, Vancouver Zero Emissions Building Plan, and the CleanBC Roadmap to 2030 [PDF] a success. Industry training and ZEB awareness building is our humble contribution to a great group effort to reduce greenhouse gas emissions in BC.
Inspired Educator Award (2021)
Education Leadership Award (2021)
James Bourget ‐ Zero Energy/Emissions Buildings, BCIT School of Construction and the Environment – wins the 2021 Education Leadership Award from the Vancouver Regional Construction Association (VRCA).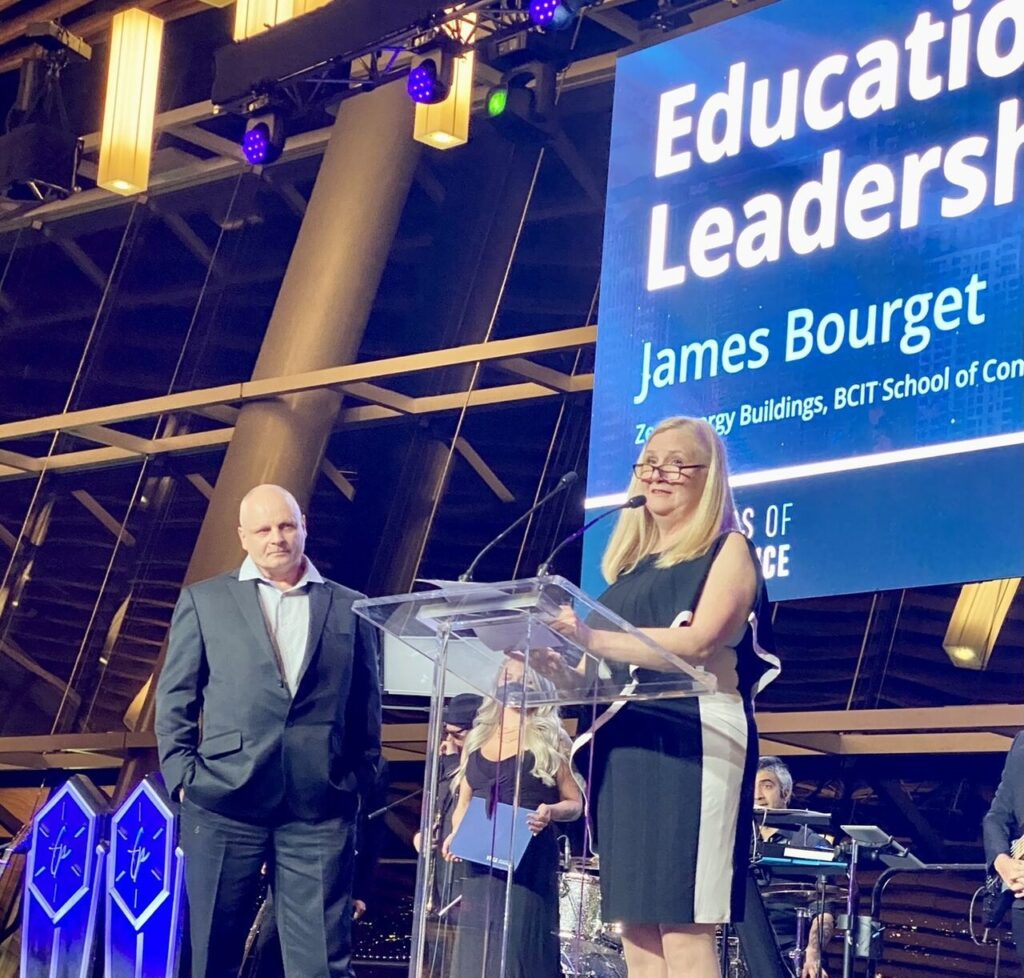 Congrats James, you truly are a great educator!
Short annual (2019-2020) report
About the BC Energy Step Code, the City of Vancouver Zero Emissions Building plan and the CleanBC Roadmap to 2030
The Province of British Columbia created the BC Energy Step Code to make buildings net-zero energy ready by 2032. It provides an incremental and consistent approach to achieving more energy-efficient buildings that go beyond the requirements of the current BC Building Code. The City of Vancouver is also leading the way with the Zero Emissions Building plan requiring zero emissions buildings in all new construction by 2030. Finally, the CleanBC Roadmap to 2030 [PDF] is documenting the actions required to put BC on track with its Net Zero Carbon by 2050 commitment.