AFRESH Home is a housing demonstration project located on BCIT's Burnaby Campus that showcases some of the most innovative yet practical ideas in sustainable housing today.
These include:
Energy Conservation
Environmental Impact Management
Occupant Health, Comfort and Productivity
Functionality, Longevity and Affordability
Quality Assurance and Commissioning
Life Cycle Analysis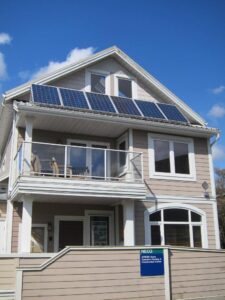 It's an affordable, durable, healthy and environmentally conscious home that is designed to change easily as the lifestyle of its occupants change. Using off-the-shelf technology, a flexible design, and health-conscious, high quality building practices, AFRESH Home demonstrates how a home can be created that will provide lifelong comfort for its occupants.
AFRESH Home allows BCIT to work in cooperation with industry partners in the development and demonstration of new housing and construction products and technologies, such as the photovoltaic project currently displayed on the third level of AFRESH Home. In addition, the AFRESH Home project allows BCIT the opportunity to work in partnership with industry to assist and support the transfer of this technology, expertise and capability at an International level.
The home is designed to fit a typical urban lot that is 33 ft. by 122 ft. with rear lane access. It has two main living floors, a convertible attic space and an optional basement. Sound like typical design? Not really! Depending on occupant needs, AFRESH Home can convert from a four-bedroom, single family home to a code-compliant duplex.
The creative ideas in AFRESH Home were the result of a team effort by Canada Mortgage and Housing Corporation, the British Columbia Institute of Technology, the Greater Vancouver Home Builders' Association, the Canadian Plywood Association, UBC School of Architecture and a host of product and service providers.
The Home has received over 55,000 visitors, and it continues to bring awareness of new, alternative energy technologies to campus visitors, staff and students.
Awards
BCIT was a finalist for BC Hydro's 2010 Power Smart Excellence Awards, in the category of Conservation Partner, recognizing the Institute's achievement with AFRESH Home and the Distributed Power Connections Study, the Intelligent Microgrid, and other projects. In 2000, BCIT's Photovoltaic Energy Applied Research team at the Technology Centre won the Canadian Institute of Energy's Applied Energy Innovation Award for its work in Building Integrated Photovoltaics (BIPV).