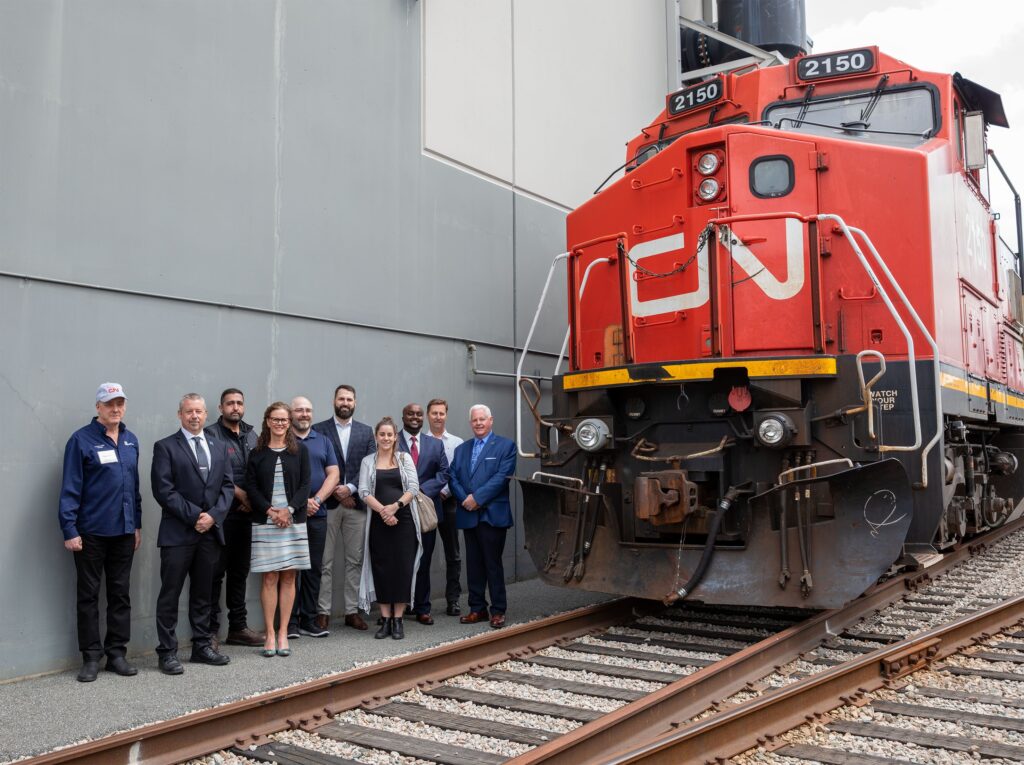 The British Columbia Institute of Technology (BCIT) and the Canadian National Railway Company (CN) recently announced CN's donation of a $475,000 locomotive to the Institute. As CN's largest gift-in-kind to BCIT, this donation is the second locomotive gift to the BCIT School of Transportation.
At the recognition event, BCIT unveiled CN's locomotive gift and announced the naming of the new Canadian National Railway Company Classroom at the Motive Power Centre of Excellence.
"The company's philanthropic leadership is helping BCIT students access the training they need to launch meaningful careers," said Jackie Jacob, Interim Vice President, BCIT Advancement. "By investing in BCIT, donors like CN are supporting the learning journeys of thousands of students and helping transform applied education in BC."
BCIT students in the Railway program can look forward to enhanced training and up-to-date industry knowledge, including practical skills required for employment in the industrial railway, short line, and railway supplier environments.
"We're pleased to support BCIT and provide a 1992 GE Dash 8-40CW locomotive, our second such locomotive gift to the Institute," shared Mahir Abdulle, Assistant Superintendent, BC South, CN. "The locomotive gift will support the BCIT Railway Conductor and Operations program and give students invaluable hands-on training and learning opportunities. Opportunities like this one are an extension of CN's commitment to students and applied learning."
The partnership between CN and BCIT spans nearly four decades. As a major employer of BCIT students, CN continues to be an invested and active partner at the Institute. Prior to this donation, the company has supported learners through student-focused awards programs, gifts-in-kind, and sponsorship of special events in the School of Transportation.
Thank you to CN for its continued support. The company's generous donation of a locomotive will be used as training aids in the BCIT Railway program and provide students with increased access to the equipment they need to become leaders, makers, and innovators of tomorrow.
Learn more about giving to BCIT.
—
Main photo: (L-R) Vince Jones, BCIT Railway instructor; Steve Perry, Dean, BCIT School of Transportation, Jackie Jacob, Interim Vice President, Advancement, BCIT; Anthony Upton, Department Head, BCIT Motive Power and Heavy Mechanical Trades; Scott Fleming, BCIT alum; Emily Lebek, CN; Mahir Abdulle, Superintendent, CN; Bruce Thompson, Associate Dean, BCIT Motive Power.