Students, staff, and faculty in BCIT trades and technology programs will soon have access to new training facilities with an investment of $162.6 million in the Trades and Technology Complex (TTC) at the Burnaby campus. A collection of new and renovated buildings and enhanced campus infrastructure, the TTC will create increased access to world-leading, adaptive learning environments for 21st-century trades education. The investment builds on BCIT's outstanding leadership in trades training and contributes directly to BC's economic and workforce development priorities.
The Province of British Columbia is providing $136.6 million and BCIT is providing $26 million towards the first phase of the TTC, which includes significant contributions from industry partners across six sectors. The multi-building development will train future trades and technology professionals to meet the growing skilled-labour demand, as well as ensure that the workforce is ready to adapt to the growing challenges of tomorrow.
"Investing in new trades training infrastructure at BCIT is a critical part of equipping students for the jobs of the future while supporting a clean, innovative economy," said Anne Kang, Minister of Advanced Education and Skills Training. "The new Trades and Technology Complex will help ensure future students have access to the best tools, instruction and equipment needed to meet the demand for an estimated 85,000 new trades jobs expected over the next 10 years."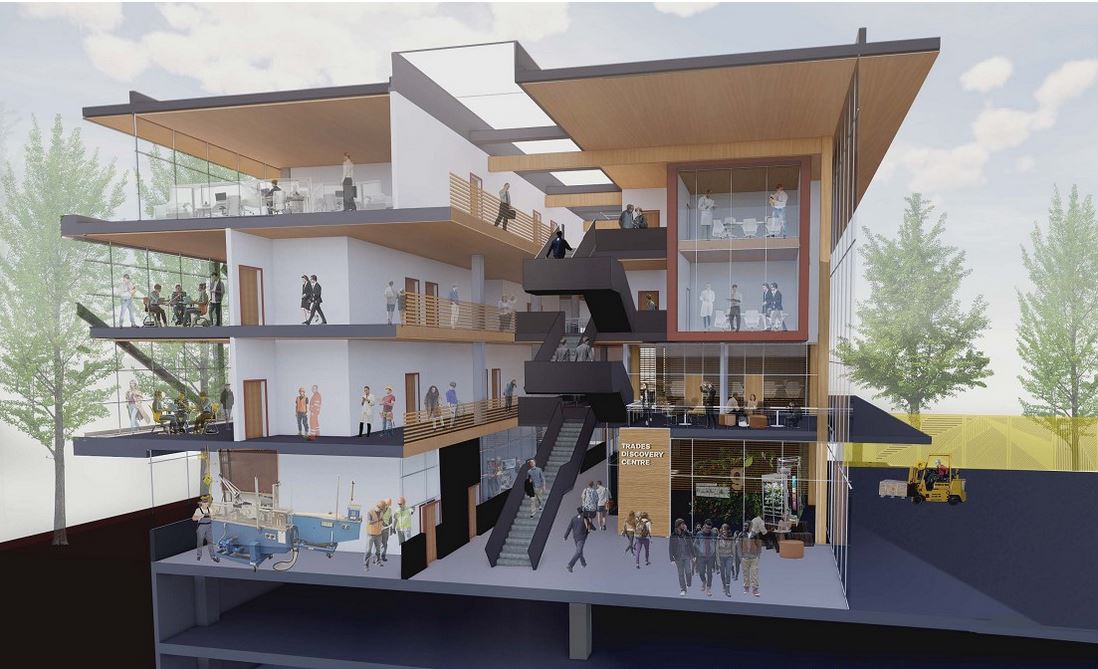 At the heart of the complex will be a new Trades and Technology Centre. Showcasing BCIT's unique approach to trades education, the purpose-built space will foster immersive, inter-disciplinary collaboration between students in trades, technology, engineering, and architecture studies. It will combine workshops, simulation, a maker space, and a trades discovery centre. The development will also include a Marine and Mass Timber Workshop, a Carpentry Pavilion constructed of mass timber, a Campus Services Building, and the ecological restoration of Guichon Creek.
"The Trades and Technology Complex demonstrates BCIT's longstanding commitment to supporting the vital need for a highly skilled workforce in British Columbia as well as to our students, faculty, and staff," said BCIT President Kathy Kinloch. "This leading-edge complex will showcase BCIT's commitment to powering the province's prosperity through applied education that empowers people and shapes BC for generations to come. BCIT is grateful for the support of the Province, for the generous contributions of the many industry partners from across multiple sectors, including forestry, mining, and construction who make the Trades and Technology Complex possible."
"BCIT is a place where students learn to maximize their potential while gaining hands-on work experience that is applicable to everyday life," said Shaquille (Shaq) Davis, Level 4 Carpentry Apprentice, BCIT. "After completing four years of my Carpentry Apprenticeship at BCIT, I am confident that I can tackle any complexity within my field. Thanks to support from BCIT, the provincial government, and industry partners, there will be more educational opportunities to support students, like myself, in becoming innovators for the trades industry."
Highlights:
Trades and Technology Centre
Four storey, 7,670 square metre building with mass timber elements to consolidate several trades programs into one location with space for inter-trade collaboration.
Carpentry Pavilion
Pavilion constructed of mass timber, with covered open project area and enclosed classroom spaces which will house the new Mass Timber Construction training program.
Marine and Mass Timber Workshop
Steel structure with high overhead clearance, open ends, and gantry cranes. Will allow the new Mass Timber Installers and Marine Fitting programs to erect mass timber structures and heavy steel mock-ups.
Campus Services Building
Two storey, 3,250 square metre facility, constructed of mass timber to consolidate the current Corporate Services, Campus Development, Project Services, and Facilities Management to a single, modern site.
Ecological restoration of Guichon Creek
"Daylighting" of a major underground waterway (formally a culvert). Restored creek will serve as a new pedestrian greenspace through the heart of the Burnaby Campus, as well as a Living Lab for students studying ecological restoration.
Construction of the new Trades and Technology Complex at BCIT will begin in 2023.
About the INSPIRE Campaign
The Trades and Technology Complex is supported by the INSPIRE Campaign, the largest fundraising initiative in BCIT's 55-year history, is creating a new future at BCIT as a destination for applied learning. Through the Campaign, BCIT is gaining the strength and versatility required to support British Columbia's prosperity by ensuring that its graduates are future-ready and future-relevant, prepared to work in a complex landscape and anticipate the needs of industry, businesses, and the community.
About the British Columbia Institute of Technology

For more than 55 years, the British Columbia Institute of Technology (BCIT) has been delivering flexible, relevant, and future-proof education that prepares learners to provide applied solutions to industry challenges – across BC and around the world. With five campuses and about 45,000 students enrolled each year, BCIT is one of BC's largest post-secondary institutes. The BCIT curriculum is developed through close consultation with industry, and delivered by over 2,500 faculty and staff who have direct, hands-on experience in their fields. Through its unique applied education model, BCIT is connecting education, industry, and government to power provincial recovery and resilience. The Institute's nearly 200,000 alumni span all sectors including business, health sciences, energy, finance, construction, technology, transportation, and more.
Learn more about TTC.
Learn more about trades and technology training at BCIT.
There are many ways for you to support BCIT students and the future of education. Contact us to join the BCIT INSPIRE Campaign.