Entering the trades changed Tamara Pongracz's life. Now she's inspiring future generations to follow her lead, by helping to expand and transform trades education at BCIT.
Tamara Pongracz not only knows how to weld a pipe assembly, but also what it takes to work your way up the trades career ladder. After a series of dead-end jobs, she started as a welder's helper before progressing to a plumbing apprenticeship. She's never looked back.
A stint teaching eventually led her to becoming the driving force behind BCIT's renowned Trades Discovery program, more than 15 years ago.
"As there are advances in new and emerging technologies, we need an infrastructure that can keep pace."
Today, as Chief Instructor, Trades Access, Pongracz oversees courses and services that help students find trades or career paths through real-world experiences.
Meeting industry expectations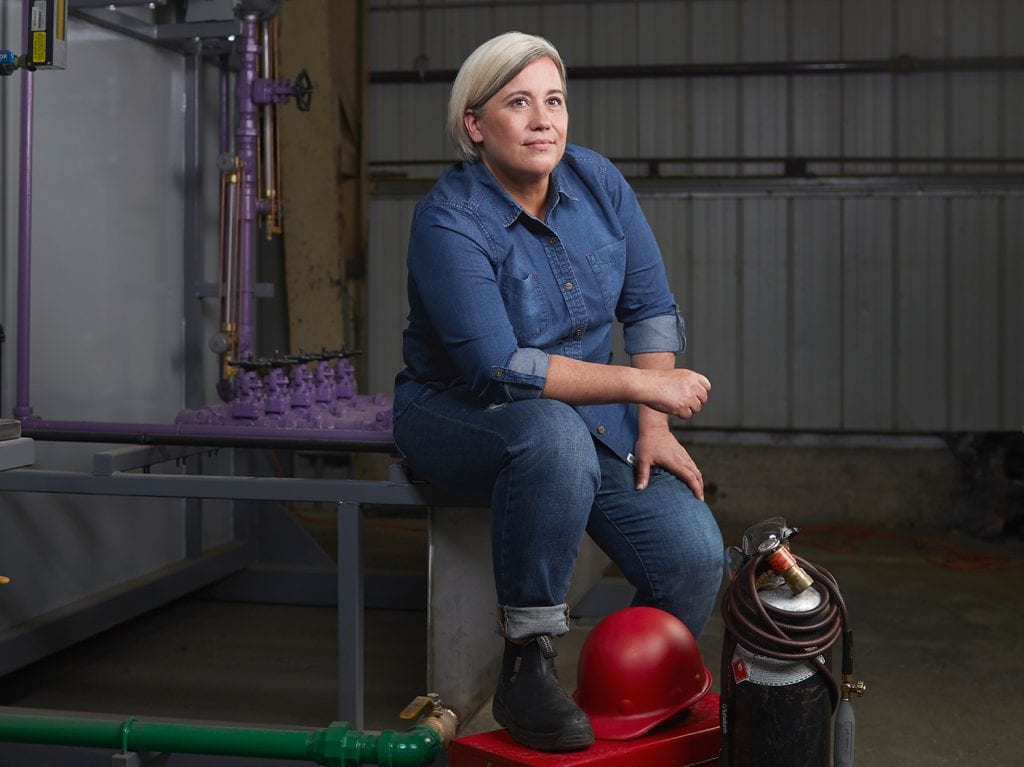 "Students get to try different trades careers to see if one fits," she explains. "I'm extremely proud that we have helped hundreds of folks find a rewarding career path, at a time when industry is looking for skilled people."
Welding rock-solid links between BCIT and industry is important to Pongracz. As BCIT alumni progress in their careers, they in turn create more opportunities for new grads.
"Our trades exploration programs involve students going on practicum," she says. "When placing students, more often than not it's with a BCIT alumnus/alumna who sees it as their way to give back to their alma mater."
Pongracz sees this industry support as a mutual partnership: "They provide us with resources and information that help us better prepare the workers who will be serving their industries."
One way to better prepare students is by giving them the best possible learning environment —one that reflects current and future workplaces.
"As there are advances in new and emerging technologies, we need infrastructure that can keep pace," says Pongracz.
Building a better workforce
The planned development of a new BCIT Trades and Technology Complex represents a huge leap forward in this infrastructure. Students will learn inside a safe and energy-efficient environment, with access to state-of-the-art equipment that reflects how the world is changing.
The increased capacity will allow for the creation of more course seats, and the doors will be open to all.
"We've offered women-in-trades training at BCIT since the 1970s," says Pongracz. "We understand the value of diversity and recognize the positive contributions that a diverse workforce brings."
She takes pride in knowing that BCIT trades graduates can be found in workplaces around BC and beyond: "Our number-one focus is making sure that we're sending out first-rate grads."
One graduate, sheet metal worker Laura Quilty, recently emailed BCIT: "Tamara's support and encouragement did not stop when I graduated. She has been a driving force for me along my chosen career path all these years."
The new Trades and Technology Complex will create bright futures for the next generations of Tamaras and Lauras — and the companies and industries that rely on them.
"BCIT plays a major role in ensuring nurses have the essential skills for the growing complexity of our healthcare system, and how we deliver patient care."
Jessy Dame
Certified Registered Nurse
Vancouver Coastal Health
BCIT Alumnus, Neonatal Specialty Nursing '16 Reproductive Health '17
Read Jessy's story
As technological, economic and social change accelerates, the BCIT campus must transform into a learning environment where solutions to our most urgent challenges are born, tested and readied for the world. We gratefully acknowledge our generous corporate, individual, and alumni donors who have helped us raise more than $110 million to date towards this exciting transformation.