From neonatal intensive care to men's health, virtual classrooms at BCIT have made specialized healthcare education accessible at every moment in Jessy Dame's diverse career.
Jessy Dame was in high school when an opportunity to job shadow in the local neonatal intensive care unit (NICU) opened his eyes to the positive impact nurses have on at-risk infants. The experience inspired Dame to pursue his calling and set him on a career path that would wind its way across the province.
"The strength and resilience of pre-term infants are the most beautiful things," says Dame, now a registered nurse and three-time BCIT alumnus.
In 2011, Dame was accepted into the nursing program at Thompson Rivers University (TRU) in Kamloops. At a career fair in his second year, he learned about the neonatal certification program at BCIT — one of only a few such programs available in Canada. He immediately enrolled via remote learning.
"I've always been interested in maternal health. As soon as I got into nursing school, I knew I was going to be a NICU nurse."
"BCIT was always there, providing me with the specialized skills I needed."
Turning to BCIT for diverse healthcare specialty training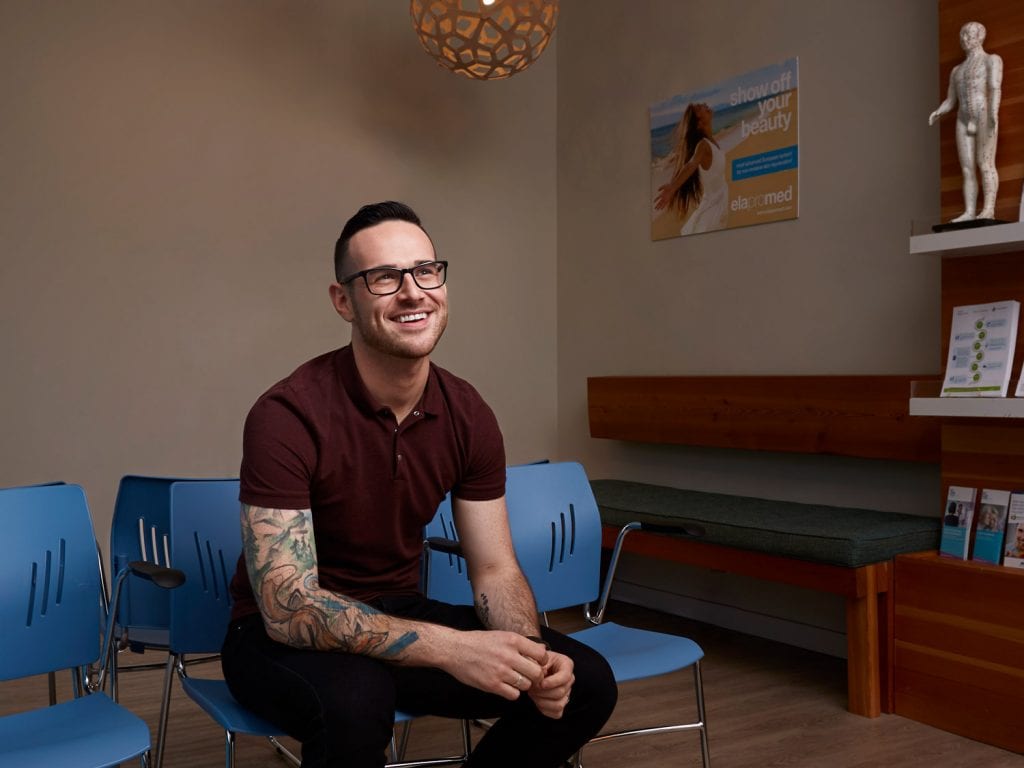 The neonatal certificate at BCIT equips nurses to support at-risk infants and their families in neonatal nurseries and NICUs. The course, delivered online from the Burnaby campus, makes it possible for students to learn from wherever they are in the province, and to fit the program around work and other studies.
Dame gained his neonatal certificate in 2015 — just six months after graduating from TRU — and began working in postpartum and NICU in Kamloops. Immersed in the Kamloops NICU for two years, Dame came to realize that his primary interest in working as a NICU nurse was driven by the question of why babies end up in the unit in the first place.
"At the end of the day, we don't want babies coming into the NICUs," he says. "We were seeing a lot of young women with a lack of prenatal care, education, income, and sexual health education."
"That led me down the path to pursue a sexual health education specialty," says Dame, who again turned to BCIT for the essential skills he needed. By adding certifications in human contraceptive management, sexually transmitted infections, and perinatal care (the period from 22 weeks of pregnancy through to seven days after birth) in the following years, he took another career step each time.
After the NICU in Kamloops, he spent a year working with the First Nations Health Authority in remote and rural care across communities in northern BC, and became an active member of the Canadian Indigenous Nurses Association. As a Métis nurse, Dame gained new connections to his family's heritage through this experience, and learned about the role culture can play in healing.
He then moved back closer to home to work in sexual health for Vancouver Coastal Health Authority at the Health Initiative for Men Health Clinic.
"BCIT was always there, providing me with the specialized skills I needed," says Dame. "I thank BCIT a lot for the training that they offer to many nurses. They have done a huge service to our province by providing the training that helped me build my career."
Training for the growing complexity of the healthcare system
As Dame looks to the future, he sees an increasingly complex healthcare system where BCIT plays a critical role in ensuring healthcare professionals get the skills they need to serve diverse populations.
"I think BCIT has a huge role in redeveloping education to support nurses to ensure that they have the essential skills for the growing complexity of our healthcare system, our patients and the growing population," Dame says.
The INSPIRE Campaign will enable more nurses like Jessy Dame to access a specialized education at BCIT, preparing the next generation of healthcare specialists to tackle the complex challenges of the future.
"From electricians to radiographers to environmental health officers, every aspect of our lives is touched by BCIT grads."
Kalpna Solanki
Chief Executive Officer at Environmental Operators Certificate Program
BCIT Alumna, Environmental Health '89
Read Kalpna's story
As technological, economic and social change accelerates, the BCIT campus must transform into a learning environment where solutions to our most urgent challenges are born, tested and readied for the world. We gratefully acknowledge our generous corporate, individual, and alumni donors who have helped us raise more than $110 million to date towards this exciting transformation.