BCIT nursing student Kayla DiBauda always wanted to work in healthcare. She is ready to hit the ground running in the most challenging, yet rewarding, of careers.
A workplace accident gave Kayla DiBauda first-hand experience of how important nurses are to the healthcare system.
"I got to see the holistic nature of nursing," she says. "Nurses really try to promote the physical, mental, psychological and social well-being of their patients."
Now in her final year as a nursing student at BCIT, she's eager to start applying her skills to the benefit of the community.
"BCIT prepares us to be problem solvers and to be ready to tackle all those challenges we face in healthcare today."
Collaboration is key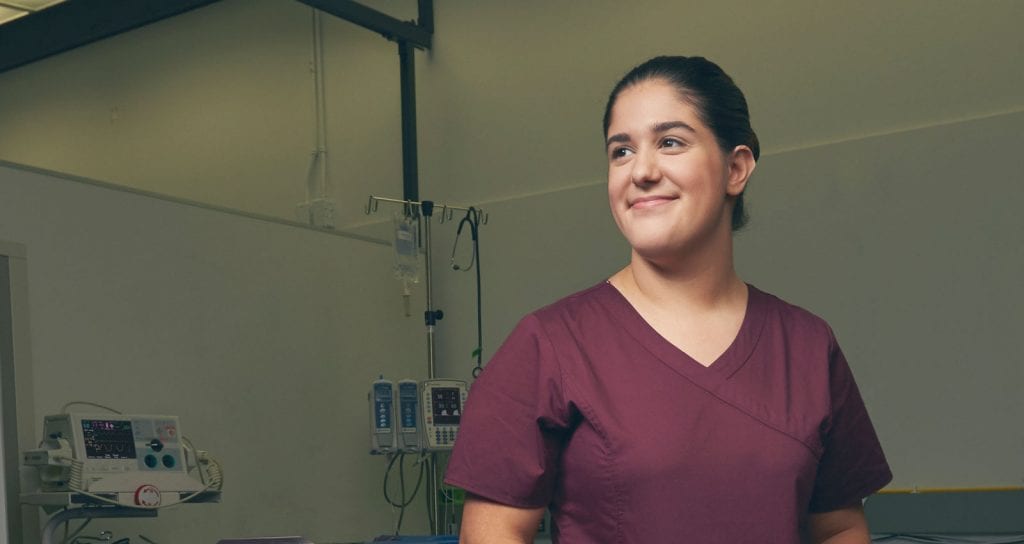 DiBauda hopes to initially work on a cardiac surgery unit before returning to BCIT to complete her intensive-care specialization. In the long term, she wants to work with patient engagement, quality improvement and maybe even teaching.
She already feels well prepared to accomplish her career goals: "BCIT prepares us to be problem-solvers and to be ready to tackle all those challenges we face in healthcare today."
That feeling of preparation comes from the highly practical education DiBauda and her fellow nursing students receive.
"I think one of the things that makes BCIT unique is that, from the very start of the program, you're well integrated into the acute-care setting as well as the community-care setting," she says.
"Collaboration is crucial in nursing, and BCIT really focuses on interdisciplinary collaboration and communication, as well as leadership skills. As a student you are integrated into that setting through your practical placements, so you are able to learn how to problem-solve and communicate with the team."
Practice makes perfect
As Chair of the Health Sciences for the BCIT Student Association, DiBauda plays an active role in student life at BCIT. She thinks the excellent education nursing students already receive is only going to get better with the creation of a new Health Science Centre on the Burnaby campus.
"You can only learn so much from reading a book," she says. "The important thing is the hands-on aspect — being able to work in the simulation labs and go into the hospital where you can problem-solve with your peers, instructors and fellow healthcare professionals.
"BCIT graduates are job-ready and they're ready to take on different challenges in the healthcare setting."
This matters. The chances are that all of us will need a Kayla DiBauda to be there for us one day.
"The changing world of work – and Canada as a knowledge-based economy – requires that our people have greater access to higher education."
Tamara Pongracz
Chief Instructor, Trades Access, BCIT
Read Tamara's Story
As technological, economic and social change accelerates, the BCIT campus must transform into a learning environment where solutions to our most urgent challenges are born, tested and readied for the world. We gratefully acknowledge our generous corporate, individual, and alumni donors who have helped us raise more than $110 million to date towards this exciting transformation.