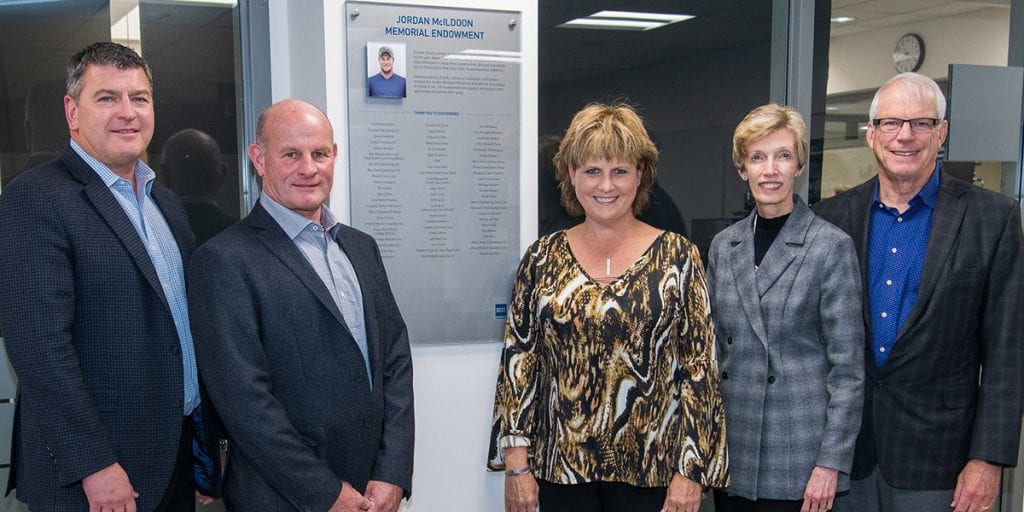 Jordan McIldoon won't be able to follow in his father's footsteps and become a heavy duty mechanic. But thanks to the incredible generosity of family, friends, colleagues, and industry, BCIT students like Jordan now have access to new awards and bursaries to help them on their path to a trades career.
Turning a tragedy into a legacy
In 2017, Jordan was excited to launch his career. As an employee at Jacob Bros. Construction and a student in his final year of Heavy Duty Mechanical training at BCIT, he was on his way to realizing his dream. But in October that same year, Jordan lost his life, a victim of the mass shooting in Las Vegas.
In the wake of their tremendous loss, Jordan's parents Angela and Al wanted to honour their only son's life. Led by Jacob Bros. Construction and with support from the BCIT Foundation, they established the Jordan McIldoon Memorial Endowment Fund and raised nearly $105,000.
On October 29, 2019, BCIT held a dedication to recognize the generous contributions of industry, family, and friends, and to honour Jordan's memory. The fund will support BCIT Motive Power students by providing entrance awards and bursaries to students in the trades with a preference for those in the Heavy Duty Mechanical program.
"After connecting with Angela and Al and reaching out to BCIT we began sharing our desire to ensure that we could honour Jordan through this endowment and provide critical support to future Heavy Duty Mechanic apprenticeship students just beginning their career in our industry—and the response was really amazing," said Scott Jacob, president and CEO, Jacob Bros. Construction. "When we first met with the Foundation, they encouraged us to keep our goals realistic…I knew $100,000 was realistic and together we did it!"
Remembering Jordan
At the event, BCIT Foundation also unveiled a plaque in Jordan's memory at BCIT's Annacis Island Campus. Fittingly, it is displayed in the lab to which Jordan would have returned had he been able to continue his education.
"This is such a bittersweet occasion and an absolutely shining example of the determination and triumph of Jordan's family to hold space for a disparate group to create something important and lasting from an absolute tragedy," said BCIT President Kathy Kinloch addressing the guests. "Your collective determination and conviction to ensure Jordan's life continues to have meaning for current and future generations of learners is outstanding and exemplary for everyone at BCIT."
BCIT recently announced it will contribute an additional $10,000 to the endowment fund, raising the total value to nearly $115,000.
The event was also attended by BCIT faculty and staff, as well as Jordan's family and friends, including his Scottish nanny, who greeted each and every guest in a way that reflected how this milestone celebration made everyone feel —enveloped in a big, warm hug.