The skills gained at BCIT don't just launch careers; they sustain them. Award-winning investigative journalist and BCIT alumna Diana Swain can testify to that.
By the time she was awarded an Honorary Doctorate of Technology at BCIT in 2017, CBC journalist Diana Swain had become a familiar face to many across Canada. She's certainly come a long way since graduating from the institute in 1987.
"I owe my entire career to the two-year broadcast technology diploma that I earned at BCIT," says CBC News' senior investigative journalist and host of CBC News Network's The Investigators.
"Today I work alongside people who have incredible education from all around the world," says Swain. "Most of them have a Master's degree in journalism, and I think my diploma from BCIT stands up pretty well."
"I owe my entire career to the two-year broadcast technology diploma that I received from BCIT."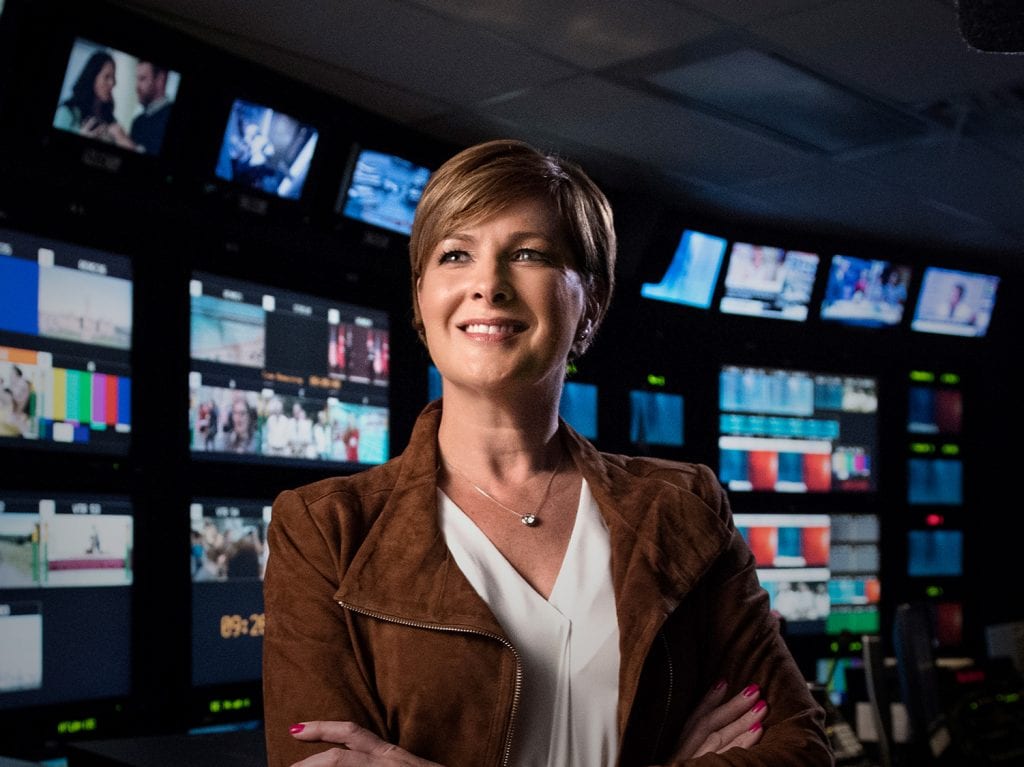 It all began here
"Pretty well" is characteristic understatement. In the three decades since she graduated, Swain has travelled Canada and the world reporting on often-historic events. She has worked with some of the best journalists around and has won numerous awards.
Jennifer MacGuire, General Manager and Editor-in-Chief at CBC Television, called Swain "one of the greats." Another Canadian broadcasting icon, Peter Mansbridge, said, "From the first time I saw one of her reports out of Winnipeg, I knew this was someone who had to be a part of our national team."
Swain hasn't forgotten where it all started: "At every step I realized that I had the base of knowledge and skills to go as far as I was willing to push myself, and all of it began here."
Best in the business
According to MacGuire, "The best in the business are always hungry to improve their skills, to try new things, to do the best stories and have the most impact, and create the biggest waves. Peter Mansbridge is that way. Adrienne Arsenault is that way. Diana Swain is that way. They are continually on a quest to do great work."
BCIT can play a role in launching the next generation of Mansbridges, Arsenaults, and Swains by equipping them for a journalism environment that is very different from 30 years ago. How news is reported and consumed has changed beyond recognition. There were no Twitter or Facebook platforms then. No 24-hour news. No smartphones.
Talking of her BCIT experience, Swain said, "You learned the skills to do the job. That was the reputation of a BCIT grad way back then, and it's even truer today.
"BCIT is an even bigger and better institution than when I attended. Its reputation is even stronger, more widely known, and more admired."
Coming from someone known for her integrity and commitment to telling the truth, those are words to inspire BCIT students, alumnae, and lovers of great journalism alike.
"The changing world of work – and Canada as a knowledge-based economy – requires that our people have greater access to higher education."
Leah Gillanders
Owner, Leah's Automotive
BCIT Alumna, Automotive Mechanics '06
Read Leah's story
As technological, economic and social change accelerates, the BCIT campus must transform into a learning environment where solutions to our most urgent challenges are born, tested and readied for the world. We gratefully acknowledge our generous corporate, individual, and alumni donors who have helped us raise more than $110 million to date towards this exciting transformation.