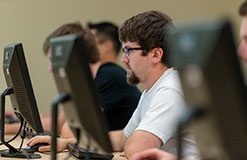 BCIT's Aerospace Technology Campus offers two adjoining test centres.
Combined total of 80 student computer workstations
Privacy screens on all monitors
Video monitoring systems
Computer monitoring software (NetSupport School)
Soundproof office
Sit/Stand desks – one per Test Centre
Getting here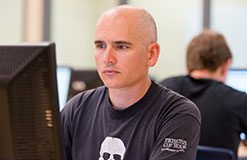 The Aerospace Technology Campus (ATC) is located in Richmond, adjacent to the Vancouver Airport south terminal. This state-of-the-art campus borders on Vancouver and is a prime location for both Richmond and Vancouver students. The ATC Campus has excellent access to transit, as well as convenient parking.
BCIT Aerospace and Technology Campus (ATC)
Room 334A, 3800 Cessna Drive
Richmond, BC V7B 0A1
Hours
Monday to Friday: 8:05 a.m. to 3:30 p.m.
Exam Session times (based on availability)
Monday to Friday: 8:05 a.m. to 3:30 p.m.


Parking information
For parking information for all campuses, please see Student and Visitor parking information.
Please be aware that you will be considered a "student" as well as a "visitor" in terms of parking at BCIT.
In Student Parking lots daily rates apply. In Visitors Parking lots hourly rates apply.
Permits must be purchased on site at the ticket kiosks.