Thermal mapping of a glacier surface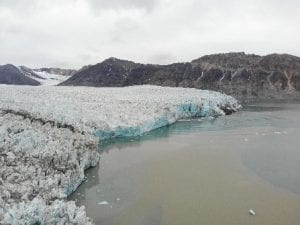 In his Antarctica research travels, Dr. Eric Saczuk met many like-minded people committed to studying the effects of climate change in the world. One such person was Sunniva Sorby, whose Hearts in the Ice (HITI) foundation provides "a platform for social engagement connecting students, scientists, manufacturers, environmental organizations, and all who care about the health of our planet, in the conversation around climate change."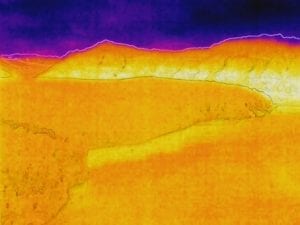 Eric contributed expertise and training in using RPAS to map the coast for one of HITI's Citizen Science research projects. His role was to investigate the application of RPAS with a forward-looking infrared (FLIR) sensor to map the surface temperatures of a glacier in Svalbard, Norway. HITI plans to measure the effects of increasing arctic temperatures on the glacier over the span of 12 months.
Read more about Eric's engagement with HITI in the BCIT News article, "BCIT Researcher Using Drones to Study Climate Change in Norway," and in Canadian Geographic, "Hearts in the Ice: Drone Technology."
Monitoring construction progress
Remotely piloted aircraft systems are being used at BCIT to test out an increasingly popular application of RPAS technology—monitoring construction progress and documenting the lifecycle of a major project. The new Health Sciences Centre is the site for this research. Every two weeks for the two-year duration of the construction project, a drone will capture up-to-date visual data and turn it into 3D models, digital surface models (DSMs), and orthophoto maps. These map products are being used for different purposes by a variety of stakeholders: BCIT's School of Health, the Marketing and Communications Department, and the construction company, architects, and surveyors.