Community Update
BCIT Student Housing is now accepting short-stay apprentice housing applications for accommodation starting August 2, 2021.
Apply For Housing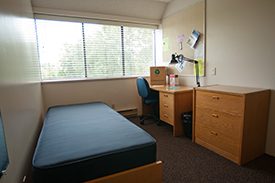 You are eligible to live in short-stay apprentice housing at BCIT if you've been accepted into a full-time BCIT program that is 12 weeks or shorter. All short-stay apprentice housing is co-ed.
Short-stay bookings are always Sunday-Friday. All short-stay residents must check in on the Sunday (or holiday Monday) before their program starts and check out by noon on the Friday that their program ends. The minimum length of stay is 5 nights. Early check-ins, late check-outs, and booking extensions are not permitted.
How to apply:
Login to the BCIT Housing Portal to apply.
Please note:
Applications must be received online via the BCIT Housing Portal. Paper applications are no longer accepted.
Short-stay applications are accepted no more than 365 days in advance of expected arrival date.
Room offers are made on a first-come, first-serve basis subject to best-fit and availability.
An application does not guarantee a room reservation.