Community update
BCIT Student Housing has had to adapt to meet the changing demands presented by the global COVID-19 pandemic. These changes have resulted in the need for us to temporarily suspend all short-term housing reservations and applications for accommodation between August 2020 – May 2021.
If you would like to be contacted regarding future short-term on-campus housing availability, you can request to be added to our Notification Waitlist. Be sure to include your program name, start date, and end date.
Notification Waitlist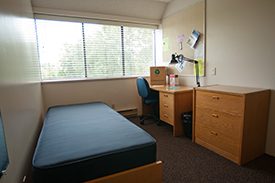 Please note our COVID-19 update above. The information below would apply once applications reopen.
You are eligible to live in short-stay accommodation at BCIT Student Housing if you've been accepted into a full-time BCIT program that is 12 weeks or shorter. All apprentice and short stay accommodation is co-ed. Please note that a minimum stay is 5 nights.
Check in is only available on the Sunday (or holiday Monday) before your program starts, between 12:00 p.m. – 6:00 p.m. You must check out by 12:00 p.m. on the final date of your program. No extensions are available.
How to apply:
Apprentice and short stay housing is subject to availability. Once you know the start and end dates of your program, please contact the Housing Office with your full name and student number to request an application.
It is your responsibility to complete and return the application via email. A room cannot be booked without a completed application.