What is a resident advisor?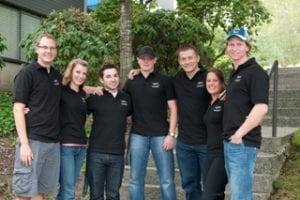 Resident Advisors (RAs) are full-time students or alumni employed by the BCIT Housing Office who live on-campus to support the housing community. The RA team helps to create a positive academic environment and acts as the front line of the housing management team.
Resident Advisors are many things. They are rule and policy enforcers, resource people, counselors, role models, activity coordinators, building managers and, most importantly, friends!
They are approachable, resourceful and very good listeners. When in need, they are your "go to" person. When you move into BCIT Student Housing, they will be some of the first people you will meet.
Why do we have resident advisors?
RAs enable a positive housing community for you to live in. While being responsible for the enforcement of Student Housing rules and policies is part of their job, they are also great listeners, organize fun recreational activities and keep everyone involved in campus life.
When are they available?
RAs live on-campus and are generally in and around the community from Monday to Thursday evenings. On weeknights and weekends there is an RA duty schedule which ensures there is always an RA on site, but also ensures each RA gets time off.
How do I apply to be a resident advisor?
Recruitment is now closed for the 2020/2021 school year. Please revisit this page in January 2021 for information about how to build your campus community as an RA for the 2021/2022 school year.