You are eligible to apply for long-stay accommodation at BCIT Student Housing if you have been accepted into a full-time, cohort-based BCIT program of 16 weeks or longer.
On-campus accommodation is limited and not guaranteed. BCIT's long-stay housing operation is geared primarily to students in programs running from September to May, however vacancies may occur throughout the year for those students whose programs start at other times of year.
The deadline to apply for the fall term (September) is June 1. If you are accepted to your program after June 1 you may still apply to live on-campus, though you will be added to our waitlist.
If you are having issues logging into the online application form or need to make changes to your application form, please contact the Housing Office and provide your name and BCIT student number. Please only submit one application per person.
On-campus housing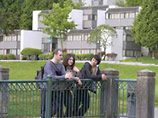 The BCIT Student Housing complex is situated on the Burnaby campus, just a short walk away from classes. It's home to over three hundred residents in seven low-rise, split-level houses. Each house consists of a townhouse-style block, where 12 students live together. Each resident has a private room with shared kitchen and cooking facilities, living/dining room, washrooms and laundry facilities. In your application you may request to live in an all-female, all-male, or co-ed suite.
Each bedroom is comfortably furnished with a bed, desk, chair, dresser, bookshelf, desk lamp and closet.
Each house has a Resident Advisor (RA), who is there to organize social events and activities, provide advice and counseling, and be on hand in case of emergency. The RA is your "go to" resource about anything Student Housing related.
Rent includes wired and wireless Internet at no extra cost. It does not include a meal plan.
Off-campus housing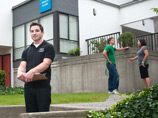 The Housing Office provides students with free access to comprehensive listings of off-campus accommodation available in the community. A listing of long-term off-campus accommodation (e.g. more than three to four months) is available online. Listings of short-term accommodations can be emailed to you upon request.
BCIT does not assume any responsibility for agreements made between students and landlords.
Family housing
BCIT does not have any accommodation for couples or families. The off-campus housing service includes listings appropriate for families.