Education to Prepare and Advance Frontline Healthcare workers in these unprecedented times. In Specialty nursing at BCIT our faculty are not only excellent educators but also frontline nurses working right beside you.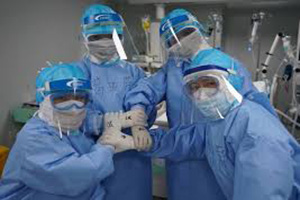 "The BCIT Focused Education Preparation Advancing Frontline Registered Nurses (FEPA) course was valuable and relevant in helping me quickly upskill to provide support to critical-care patients during the COVID-19 pandemic. The information was well organized and easy to follow. I am confident that I completed the course with the knowledge to assist in the care of ventilated patients."

Sarah Fast, BCIT High Acuity Specialty Nursing alumna and Registered Nurse, Fraser Health Authority.
Course details
Course number: MOOC – 0305
Course title: FEPA – Focused Education Preparation Advancing Frontline RNS
Audience: Frontline RNs working in COVID healthcare.
Prerequisites: Practicing RNs
Registration Fee: None
Delivery details

Self paced independent study
Flexible learning paths
Learning outcomes
This course has three different pathways you may choose to travel depending on your needs. In total, the course covers:
Oxygen supply and Demand Basics
Comprehensive Assessment
Arterial Blood Gas Analysis
Hemodynamic monitoring
Myocardial Electrophysiology and Conduction
Normal Electrocardiogram Complex
Systematic ECG Analysis
Cardiac Rhythms: Sinus, Atrial and Ventricular
Impact of Cardiac Rhythms on Hemodynamics
Interventions
Review: Respiratory Anatomy and Physiology
Non-Invasive Ventilation

Continuous Positive Airway Pressure (CPAP)
Biphasic Positive Airway Pressure (BiPAP)
Caring for the NIPPV Patient
Troubleshooting
Clinical Decision Making – NIPPV

Invasive Ventilation

Introduction to Modes of Mechanical Ventilation
Caring for the Mechanically Ventilated Patient
Troubleshooting
Clinical Decision Making – Invasive Ventilation

Introduction to Shock
Preload, Afterload and Contractility
Hypovolemic Shock
Cardiogenic Shock
Septic Shock
Time commitment
Varies depending on the path you choose, but average is about 40 hours.
Completion criteria
Self-assessment
Completion award

Statement of Completion
Digital Badge
To Register
Once registered
Note: If you are creating an account for the first time, it may take up to 24 hours before you are able to log in to BCIT to access your course.
Access your online course at learn.bcit.ca
Login with your my.bcit.ca email address and your password
Scroll down to your My Courses listing and click on the course link