Project description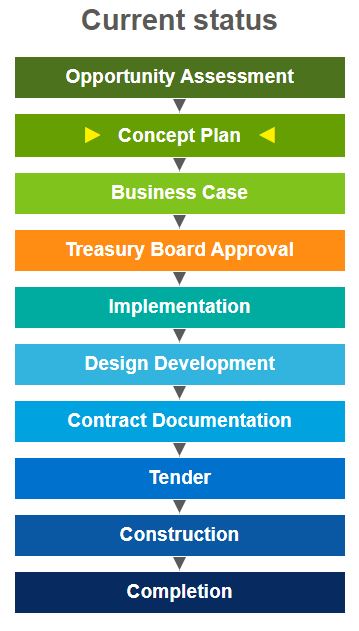 This is a phased project that envisions the construction of a new 66,480 sf (6,176m2) building, works yard, and simulated shipyard (including overhead gantry crane) at BCIT's Burnaby campus. It will also see the construction of four outdoor covered teaching spaces will be constructed as a cost-effective strategy to provide all-weather work areas.
This new Centre will accommodate program growth necessary to fulfill employment needs in critical trades areas, including the burgeoning LNG and shipbuilding industries, while providing adaptable and flexible 21st century learning environments that respond to changes in trades education, particularly with the utilization of simulation technologies.
Following the construction of the new Centre, the next phase involves the complete upgrade and renewal of the 31,215 sf (2,900 m2) NE12 Steel Trades Building at BCIT's Burnaby campus due to end of life cycle conditions.
Supported programs
Programs to be accommodated in the new Trades and Technology Centre are: Steel Trades, Ironworker, Boilermaker, Metal Fabrication, Marine Fitter, Millwright and Refrigeration, Pipefitting – Plumbing, Steam and Gas, Power Engineering/Instrumentation, Network Simulation Lab.
The following programs are located within NE12: Iron Worker Foundation, Iron Worker Generalist, Boilermaker and Metal Fabrication.
FTEs
The Steel Trades building (NE12) supports 313 FTEs. The new Trades & Technology Centre will support approximately 700 FTEs.
Project objectives
Implement the priorities outlined in BC's Skills for Jobs Blueprint.
Increase student intake and reduce waitlists for in-demand trades programs.
Support programs that are in line with emerging opportunities presented by the LNG, shipbuilding and other high-tech industries that require skilled trades and technology personnel.
Improve program image and recruitment.
Strengthen industry partnership opportunities.
Reduce energy use and operating costs.
Enable the renewal or replacement of physically obsolete buildings.
Reports
May 2016 Opportunity Assessment Report [PDF] of the Trades and Technology Centre project.
April 2016 brochure [PDF]