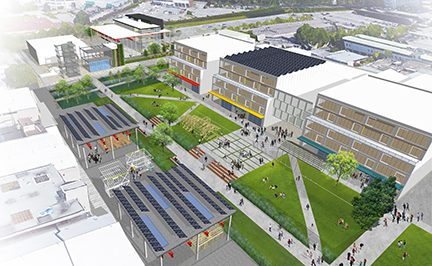 BCIT is creating a vision for the future of the Burnaby campus.
Our campus could do more to foster innovation and collaboration and to demonstrate leading edge sustainability. BCIT can be a better environment for learning.
The Campus Plan will guide the evolution of the Burnaby campus as it becomes a vibrant, urban place that supports innovation and collaboration, provides a better environment and experience for students and faculty/staff, enhances the profile of the institution, and improves educational outcomes.
BCIT aims to provide a 21st century polytechnic educational experience, but is operating on a 20th century campus.
Approved campus plan
On May 29, 2018, BCIT's Board of Governors approved (in principle) the Campus Plan. Download the plan now [PDF].
Making the plan
We are currently beginning Phase 4 of making the Campus Plan.
Current information & reports
The Campus Plan process has included several rounds of community engagement surveys and events. At each stage, the planning team presented information on key concepts and received feedback on various topics.
Past planning & reports
Historic plans and reports provide the context and history of the Burnaby Campus.
Contact us
If you have any comments or questions, please contact Campus Plan.