Transforming Vancouver into the Rain City (Free Webinar)
February 25 from 12:30 pm

to

1:30 pm

PST

The BCIT School of Construction and the Environment Sustainability Speaker Series presents
Transforming Vancouver into the Rain City: Green Rainwater Infrastructure and Rainwater Management
Speaker: Melina Scholefeild, Manager, Green Infrastructure and Implementation, City of Vancouver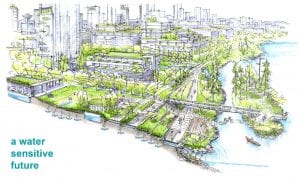 On November 5, 2019, City of Vancouver Council unanimously approved an ambitious green rainwater infrastructure and urban rainwater management initiative called the Rain City Strategy.  The strategy and its action plans reimagine how we can manage rainwater, representing a significant opportunity to take bold strides toward becoming a water-sensitive city.
Green rainwater infrastructure is a suite of rainwater management tools that use both engineered and nature based solution to protect, restore and mimic the natural water cycle. They include practices such as rain gardens, bioretention, green roofs, rainwater harvesting, permeable pavement, infiltration systems and absorbent landscapes.  Over the next 30 years, the city plans to use green rainwater infrastructure solutions to not only help manager rainwater, but also to mitigate climate change, improve water quality, increase ecosystem services and green spaces, reduce urban heat island effect, and improve livability in the city.
Melina Scholefield, Manager of the Green Infrastructure Implementation Branch at the City of Vancouver will provide an overview of the Rain City Strategy, including the imperatives for change, the transformative directions and actions the city is taking to achieve its vision of becoming a water-sensitive city.  This presentation will also talk about the role that engineering, ecology, landscape design and architecture, and green building all have to play in transforming Vancouver into the Rain City.
Speaker: Melina Scholefeild
P. Eng., Manager, Green Infrastructure Implementation, City of Vancouver
Melina is a professional engineer with over two decades of public and private sector experience. She has a long-standing dedication to sustainability and innovation in the municipal sector, leadership development and collaboration across disciplines. Melina is Manager of Green Infrastructure Implementation for the City of Vancouver.  She and her team are leading City's ambitious Rain City Strategy, a cross-departmental green rainwater infrastructure and urban rainwater management initiative.
The webinar link will be sent prior to the presentation.