Building Deconstruction Capacity in BC - Free Webinar
May 19, 2020 from 3:30 pm

to

5:00 pm

PDT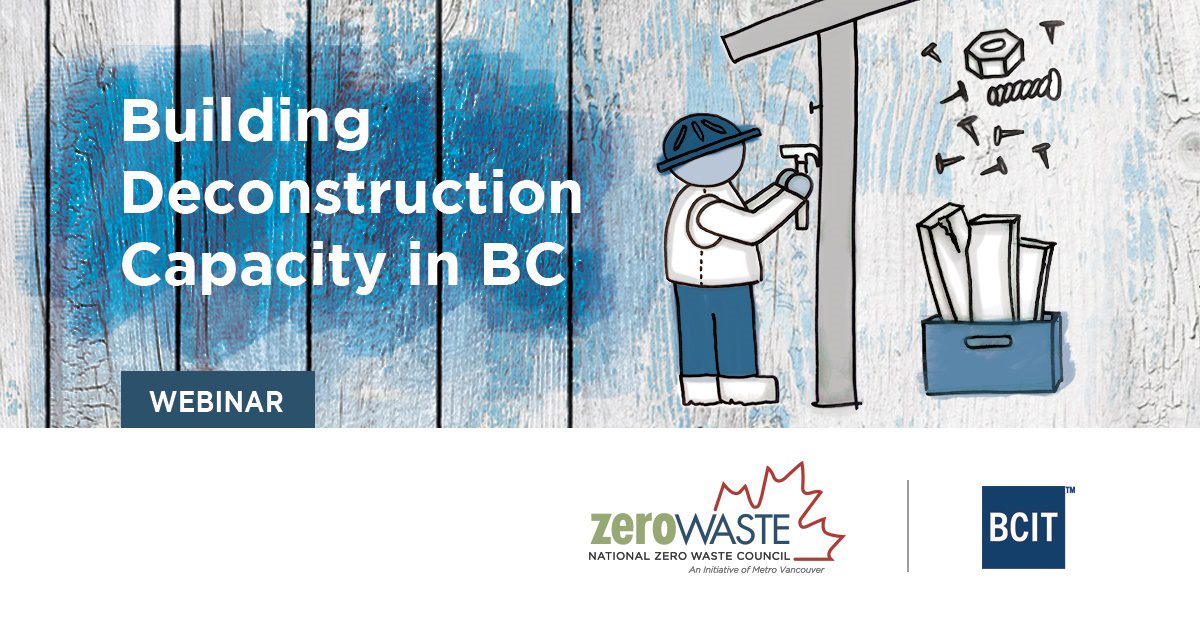 The National Zero Waste Council in collaboration with BCIT present a webinar:
Building Deconstruction Capacity in BC: Opportunities for a Changing Industry
Date & Time: May 19, 2020,  3:30 pm – 5:00 pm PST
Deconstruction is an emerging practice that presents new opportunities within a carbon neutral, circular economy. Rather than demolishing and landfilling the materials from old buildings, deconstruction involves reclaiming wood and other valuable materials for reuse and recycling. The significant benefits of deconstruction- including many new jobs, a source of valuable building materials, and reduced waste- are increasingly being realized across North America.
During this webinar you will hear from industry leaders within the deconstruction and demolition sectors from BC and elsewhere. You will hear about the skills required for deconstruction as well as the challenges faced by businesses who recognize the economic and other benefits associated with deconstruction. This webinar will examine how the transition towards deconstruction can be accelerated:
What are the barriers for deconstruction activities and businesses?
What role can municipalities play?
How will industry be changed?
What type of training requirements will be needed?
Speakers:
Lisa Brideau, City of Vancouver
Adam Corneil, Unbuilders
Shawn Wood, City of Portland
Chris Fleck, Fleck Contracting
Register here for this free webinar:
http://www.nzwc.ca/events/building-deconstruction-capacity/Pages/default.aspx