The team at BCIT Counselling & Student Development want you to know that whether you are learning on campus or remotely, we are here for you. Exposure to frequent news updates, concern for loved ones, and the transition to studying and working from home can all have an effect on your mental health. As you process and adjust to the current events, it's natural to feel any number of things; there is no one right way to respond to change. Just getting started at BCIT? This may not be the post-secondary experience that you imagined, but remember that you're not alone.
If you're feeling overwhelmed, it can help to share your thoughts; we encourage current BCIT students to call and schedule an appointment with one of our counsellors.
Not ready to talk? That's okay too. Have a look through our tips and resources for dealing with some of the feelings you may experience in the wake of the ongoing COVID-19 developments.
Stress and anxiety
The current circumstances present several sources of stress that might lead to heightened anxiety, including:
Uncertainty
Limited Control
Financial pressure
Disruption to past routines, structure, and healthy coping behaviors
Widespread health concerns
Loneliness and isolation
For many of us, getting together with people we trust is an important way to deal with stressful times. Isolation during a pandemic creates a barrier to connection and it is completely normal for people to feel lonely as we try to adapt.
Remote learning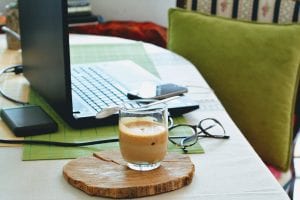 For many of you, studying or working from home means a change to the shape of your day. As you settle into the term, make sure you take the time to set up an environment that enables you to be productive, and establish a new routine. It's tempting to try to do it all on your couch, but setting up a designated work space and getting out of your pajamas can have a huge impact on your focus and energy.
Finding credible sources
There's a lot of information out there and it can be difficult to filter out facts from opinions. Misinformation can create unnecessary stress; make sure you're checking credible sources. Remember to keep your critical thinking caps on during this time of heightened fear.
Additional mental health resources
Attending to your mental health is always important; take the time to determine what works for you. Below are some resources you may find helpful.
A message from the BCIT counselling team
The changes associated with the COVID-19 pandemic may bring out the best in you and those around you, or it might stretch you beyond your capacity to cope. Wherever you find yourself along this spectrum, please know that we are here for you. BCIT Counselling and Student Development is committed to being available to students. Don't hesitate to reach out to us – we're here to support you!
Call us for more information or to book an appointment.