Graduation regalia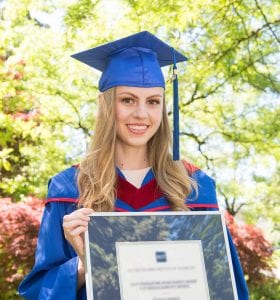 Graduates have the opportunity to purchase souvenir regalia to wear for personal photos, and to have as a keepsake.
Please visit our BCIT Regalia Order page to place your order.
Regalia purchase is available from January 6 to April 30, 2021.
Note: Orders placed after March 12 will not be guaranteed to arrive in time for the celebration on March 23.       
Pricing only includes shipping within Canada, if you wish to ship outside Canada please contact alphaomega@gaspard.ca.
Graduation photography
The Artona Group Inc. is the official graduation photographer for BCIT.
The Artona studio is now open for individual portrait photography, located at 353 West 7 Avenue in Vancouver. Please visit the Artona website to book an appointment. Winter 2021 graduates have until April 30, 2021 to book a portrait session.
To read more on Artona's safety measures, and what to expect at an appointment please visit Atorna's blog.
Questions?  Please contact csr@artona.com, call 604-872-7272, or live chat at artona.com.
Graduation frames
Mahogany finish wood and silver metal custom BCIT graduation frames are available to order. Please visit our BCIT Frames page to place your order with Leader Frames.
Geared Up
Browse the BCIT Student Association Geared Up online store to place your order for BCIT branded gear, or email retail@bcitsa.ca for more information.