Events
Diversity Circles Talk – Accessible Online Learning Environments
An online presentation by Cristina Peralejo, to be held Friday, October 22, 2021, from 3:30pm to 4:30pm
Cristina discusses how accessible content can be beneficial for all learners, including EAL students.  In this session, you will:
Identify basic barriers to accessible digital content for all students and those that affect our EAL students in particular
Gain practical tips on how to build accessible content into your Learning Hub courses
View samples of accessible content from BCIT's Language Success Team, and discuss their design and implementation
Participate in a Q & A to find out how you can make your course elements more accessible in the Learning Hub
Learn more and RSVP for this valuable and informative presentation.  Space is limited.
Supporting and Assessing Language Learners Post-Admissions: Some Ideas for Practice
A presentation by Nathan Devos, Cristina Peralejo, and Sarah Lynch
In this Food for Thought session, held on June 10th, 2021, we explored ideas around how to support and assess English language learners who have already started in their programs yet are still developing their language competence for diploma-level courses. Recent project funding from the Future Skills Centre has afforded us the opportunity to explore further how to support and assess language learners after they have been accepted into full-time diploma programs.
In this session, we provided some background, introduced the idea of post-admission diagnostic language assessment and language support, as well as presented online language support materials that BCIT students will have access to starting September 2021.
Watch the recording of the session.

Blogs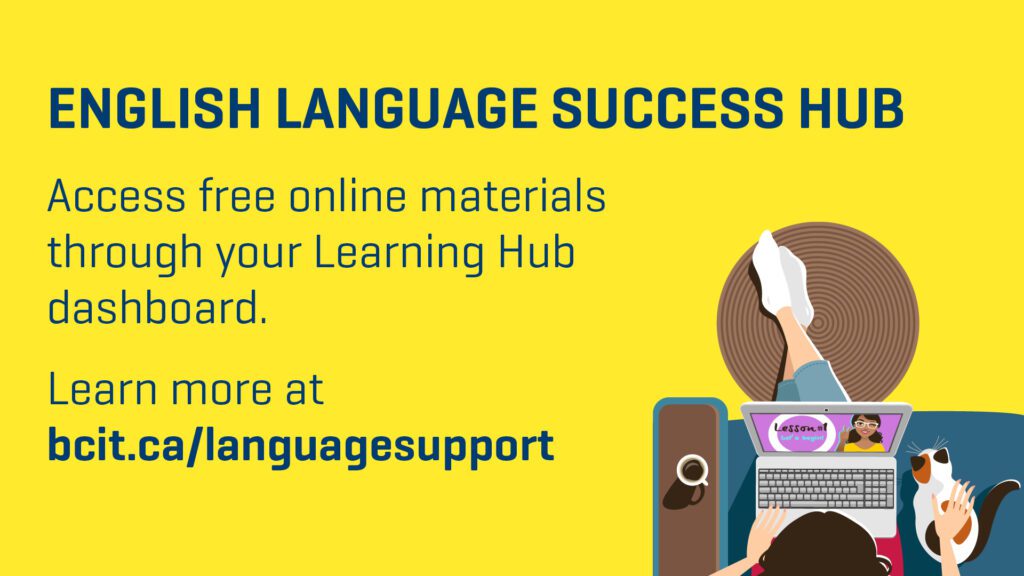 Launching New English Language Support Initiatives, September 23, 2021, by Nathan
The English Screening Test for Polytechnics – Online (ESTP-O), August 19, 2021, by Sarah
Student's View: My Interview Practice with an Industry Expert, June 2, 2021, by Denis Chsherbachuk
Identifying Needs and Ideas, May 14, 2021, by Cristina
Project Receives $500K from the Future Skills Centre, April 9, 2021, by Nathan
BCIT Hangouts, February 11, 2021, by Nathan
Young Newcomers and International Students in Diploma Programs: Shock-Proofing Through Language Confidence is funded by the Government of Canada under the Future Skills program.