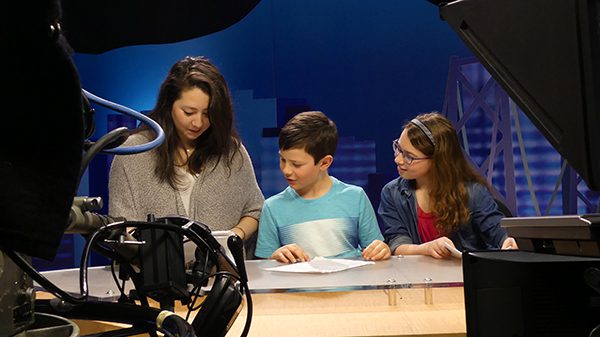 Registration for the 2020 summer camps is now closed. With health and safety as our top priority, the camps followed a Safety Plan that outlined the policies, guidelines, and procedures put in place to reduce the risk of COVID-19 transmission. Watch the health and safety video.
Summer Camps 2020
Take the time this summer to learn something remarkable! With the guidance of industry professionals, apply your creativity and step behind the scenes of the world of Broadcast and Media at BCIT's Summer Camps. All in-person summer camps will include indoor and outdoor activity.
The BCIT Broadcast Centre has been in operation for over 50 years and is pleased to offer summer programs tailored to 8-17 year olds.
Each summer camp is five days long. After camp care is available.
Animated Stories (Online)
Enter the exciting world of interactive digital storytelling by creating animated books and stop motion videos. Learn to storyboard, create voice overs, experiment with soundscaping, play with coding, and discover how to transform your creations in the editing suite. In this online camp, campers will connect with each other and their instructors through interactive video sessions and a secure online camproom with discussion boards. Each day will include a morning and afternoon interactive video session, time to work on the day's challenge with instructor guidance, and an exercise / relaxation session.
Required equipment:
A computer
A smartphone or tablet that has a camera to take videos and photos OR a digital camera where files can be uploaded to the computer
Access to a high speed internet connection
Building blocks (such as, Lego)
Paper and pens
Audio Arts & Entertainment (In-Person)
Your voice can tell a great story and our pros can show you how to use it to its fullest potential. Learn how announcers are trained to voice a range of media from commercials and cartoons to reporting for sports and entertainment. Record yourself in audio booths, run a soundboard, experiment with mixing, and create fun sound effects.
Digital Filmmaking (In-Person)
Roll camera, Roll sound, Mark, Set, Action! Your filmmaking experience begins here. With access to BCIT's green screen studio and other locations around campus, design cinematic visual compositions to get the right shots, lighting, and sound while making a music video and/or TV commercial. Explore both single camera and 360 videography.
Ages 13-17: Will also cover mobile photography and the ability to share and promote your work through social media. 13 year olds can choose between two age groups.
TV Broadcasting (In-Person)
Get in front of the camera and go behind the scenes. Discover how a TV news and entertainment show comes together through hands-on experience. You will operate studio equipment, use green screen technology, shoot video, report, and anchor on exciting activities throughout the week. Previously known as TV & Video Production Camp.
New! Ages 13-17: Will also learn how to direct multi-camera shows and operate audio consoles to mix live sound. 13 year olds can choose between two age groups.
Summer camp location
The BCIT Burnaby Campus is located just off the Trans-Canada Highway at the corner of Willingdon Avenue and Canada Way:
3700 Willingdon Avenue
Burnaby, BC V5G 3H2
Drop off and pick up
Free 30 minute parking will be provided in any non-reserved spot in parking Lot 7 during pick up and drop off times.
Contact us
Registration is now closed and details for Summer 2021 will be available in the Spring. To receive information about future summer camps, please send your contact details to camps@bcit.ca or call 604-456-8103.