Please Note: We are conducting a thorough review of our summer camp program in 2023 in order to ensure that it meets the highest standards for quality, education, and of course, enjoyment. Sadly, this means our summer camps will not be occurring this summer. We aspire to bring the program back next year.
Burnaby Summer Camps
The BCIT Broadcast and Media Summer Camps in Burnaby are tailored for kids and teens aged 8-17. With the guidance of industry professionals, kids and teens can apply their creativity and step behind the scenes of the world of broadcast and media production. All kids and teens summer camps are in-person at the BCIT Burnaby campus and will include both indoor and outdoor activities. Take the time this summer to learn something remarkable!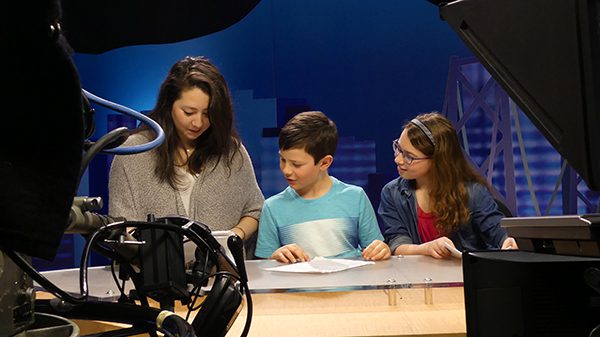 Audio Arts & Entertainment
Your voice can tell a great story and our pros can show you how to use it to its fullest potential. Learn how announcers are trained to voice a range of media from podcasts, commercials and cartoons to reporting for news, sports and entertainment. Record yourself in audio booths, run a soundboard, experiment with mixing, and create fun sound effects.
Photography
You see the world through a lens with endless viewpoints and artistic possibilities. Using a DSLR camera provided by BCIT, learn about the technical and visual language of photography in studio and outdoor settings. Experiment with exposure, the rules of composition, lighting, and editing to create great images. Make this a summer of creative exploration and self-expression!
Digital Filmmaking
Roll camera, Roll sound, Mark, Set, Action! Your filmmaking experience begins here. With access to BCIT's green screen studio and other locations around campus, design cinematic visual compositions to get the right shots, lighting, and sound while making a music video and/or TV commercial. Explore both single camera and 360 videography. 13 year olds can choose between two age groups.
Sports Broadcasting
You are passionate about sports and want to be part of the commentary even more. Take your enthusiasm to the next level by creating a radio sports talk show and anchoring a TV sportscast. Learn about voice recording and audio mixing while honing your interviewing and sideline reporting skills.
TV Broadcasting
Get in front of the camera and go behind the scenes. Discover how a TV news and entertainment show comes together through hands-on experience. You will operate studio equipment, use green screen technology, shoot video, report, and anchor on exciting activities throughout the week. Previously known as TV & Video Production Camp.
New! – Video Editing
In this 4 day camp, use editing software to build sequences that have continuity, transitions and basic audio effects to tell a compelling story. Get a glimpse of how post production works and give your projects a polished look by incorporating text, images and basic colour correction. No experience required.
Additional Information:
With health and safety as our top priority, the summer camps will follow current provincial guidelines and implement measures to reduce the risk of COVID-19 transmission.
Prior to arrival on campus, complete a daily self-assessment and stay home if experiencing any COVID-19 symptoms
Hand washing and hand sanitizer protocols will be in place
Masks are optional and individuals may choose to wear them as a personal choice
Activities will take place inside and outside. Please note that participants should not have any severe outdoor related allergies.
Summer camp participants requesting a refund more than 10 business days prior to the start of the summer camp are subject to a $45 administration fee. Summer camps are non-refundable if request to withdraw is given less than 10 business days prior to the camp start date.
Credits or refunds due to illness will be evaluated on a case by case basis.
Burnaby summer camp location
The BCIT Burnaby Campus is located just off the Trans-Canada Highway at the corner of Willingdon Avenue and Canada Way:
3700 Willingdon Avenue
Burnaby, BC V5G 3H2
Drop off and pick up
Free parking will be available during pick up and drop off times in Visitor Lot 3. Camps meet in the Broadcast Centre – Building SE10.