The Sound Economic Policy Project aims to create policies that promote prosperity for all Canadians rooted in free market principles. The project approaches policy development using a framework based on cooperative exchange models, a value or pricing mechanism, competition, decentralized transactions, and secure and enforceable property rights.
Upcoming Event: Using Market Principles to Create Effective Environmental Policy - October 3rd 2023
This workshop will host two leading experts from Canada, and the United States to discuss how free-market environmental policies can achieve various objectives. Free market environmental principles are logical and lead to cooperative outcomes, compared to more typical top-down regulatory policies that are often zero-sum.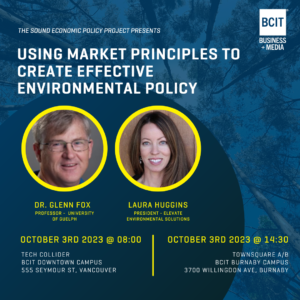 The workshop's objective is to provide a positive new framework for looking at environmental policy. Presentations from Dr. Glenn Fox and Ms. Laura Huggins. There are two sessions you can register for; there will be an AM workshop at the Downtown Campus and a PM Workshop at the Burnaby Campus. 
The Sound Economic Policy Project is led by author and instructor Jerome Gessaroli. Mr. Gessaroli teaches at the British Columbia Institute of Technology's School of Business, courses in corporate finance, security analysis, and advanced finance. He is a senior fellow with the Macdonald-Laurier Institute (MLI), and a senior fellow with the Montreal Economic Institute (MEI).
Contact Us