BCIT Business + Media supports Indigenous students and the community through a variety of financial support and customized educational programs. For additional resources visit the BCIT Indigenous Services website.
Indigenous Scholarships & Financial Awards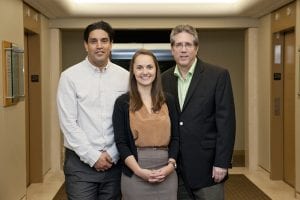 Ch'nook Scholars Program

The Ch'nook Scholars Program was established in 2007 to recognize Indigenous business students studying in institutions across BC who demonstrate personal and professional achievements and have made contributions to their university/college or community.

Elijah Harper Memorial Award

The Elijah Harper Memorial Award will be given annually to an applicant who has completed at least one year of post-secondary education in the field of commerce/business, who has demonstrated exceptional leadership abilities by championing the principles of consultation and collaboration, and has been involved and shown a commitment to extracurricular/volunteer activities.

Additional Indigenous Scholarships & Awards

BCIT Indigenous Services has a list of scholarships and awards available to Indigenous students studying at BCIT.
Indigenous student experiences
"Thanks to BCIT I had the opportunity to study in Toulouse, southern France in a partnership with Toulouse Business School one of Europe's premier private business schools. This option allowed me to get credits toward my Bachelors in Business Administration. The experience taught me a lot about myself and even about our culture here in Canada. It changed what I value in life. That kind of distance really makes you appreciate the relationships you have back at home. While I was there I visited 19 cities, backpacking on weekends and days off. That made me more risk tolerant/spontaneous, resourceful, and just makes the world seem a lot more accessible. I was immersed in the language and developed a love for linguistics."
Testimonial
"Choosing BCIT was a no brainer for me since it is so close to my hometown and I am close to my family which is important to me. I am grateful to be a part of such a great university and I am very excited about what the future has to offer. I hope one day I will accomplish my dream of becoming a successful sportscaster."
~ Austin Goode, Broadcast and Online Journalism student

"BCIT has been a positive experience for me, I've learned quite a bit about myself and my ability to push boundaries and challenge myself not only academically but also personally. I'm enjoying the program and feel like I'm learning more and more invaluable skills as well as meeting new people within the industry and people with similar interests that I will carry forward into my professional career."
~ Jillian Pasquayak, Radio Arts and Entertainment student
Business Programs & Corporate Training
The BCIT School of Business Corporate & Industry Training department actively works with industry and Indigenous communities to address skill shortages and to build capacity, at all levels. Our instructors have traveled across the province of BC to provide business education to various aboriginal communities and groups. Some of our clients have included: the BC Aboriginal Mine Training Association, the Lower Nicola Indian Band, and the Nicola Tribal Council.
Testimonial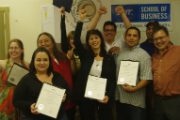 "Thank you for the opportunity to participate in this program. Please share this with other First Nations Communities."
BC Aboriginal Mine Training Association, Kamloops BC