Flip chart with paper (24″ x 36″)
Portable Lightweight easels (63″ H).
Power point presenters & laser pointers
Tripod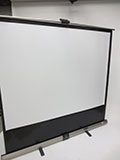 Portable screens
Portable fast fold and tripod screens (sizes range from 5′ – 8′).
Adapters
Various Mac & PC adapters for connection to displays with VGA or HDMI.
Other miscellaneous equipment: extension cords and power bars.