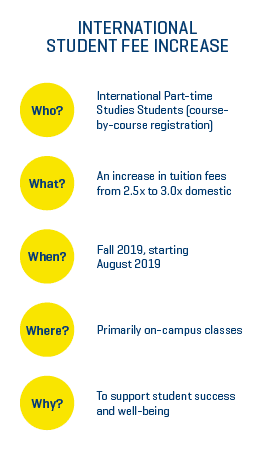 As international student registrations in BCIT Part-time Studies courses continue to increase, student and faculty feedback suggests a strong need to improve supports and services. To fund these improvements, we are increasing the differential fees paid by international Part-time Studies students from 2.5 to 3.0 times the domestic rate, bringing us more closely in line with fees charged by comparator institutes.
This rate takes effect in the Fall 2019 term, with classes beginning in August 2019, and applies to international students registering in Part-time Studies courses that take place on a BCIT campus.
Frequently asked questions
Learn more about the new changes to Part-Time Studies International fees for fall 2019 by reading through some of our most frequently asked questions.