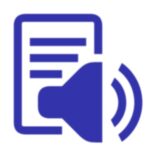 ReadSpeaker is a suite of text-to-speech (TTS) tools to read aloud digital text. The tools are available on mobile devices and desktop computers to all registered BCIT Students and Staff who have access to the Learning Hub and the Employee Learning Centre. Depending on which TTS software is used, text can be read aloud on a webpage, electronic document, communication tool, or other software e.g. MS Word. Typically, this software provides for various configuration and playback options such as reading area, highlighting, font type and size, reading speed, voice gender and voice accent. ReadSpeaker tools are compatible with all the main browsers. No downloading and installation is required.
In collaboration with ReadSpeaker, BCIT has implemented two ReadSpeaker tools: WebReader and DocReader to the Learning Hub and Employee Learning Centre.
Benefits
ReadSpeaker has benefits for all users.  It makes learning more accessible and convenient by addressing different learning modalities which include auditory and visual learning and controlling how material is presented. Improvements are reported in recalling, comprehension, focus, recognition and motivation. Users with learning challenges, visual impairment, English as an Additional Language (EAL) learners, multi-taskers, mobile learners, learners with differentiated learning styles or those who suffer from screen fatigue may benefit from this tool.
Limitations
ReadSpeaker tools can make "content" material accessible, however WebReader and DocReader are not as robust as screen readers and don't allow the user to enter commands to control what is read aloud and to inform users when changes occur on screen.  ReadSpeaker cannot read menus, the course home page, descriptions in the "contents" area, a blog, form, survey, ePortfolio, chat, assignment or external websites.
To maintain quiz integrity, certain features in WebReader have been disabled by BCIT. These include MP3 download, translate and dictionary functions. The MP3 feature is only available through the DocReader tool.
If you are looking for these features in a text-to-speech tool, please check Read & Write.